Of all the flat breads in the world, roti may just be the most beloved. Found across the Indian subcontinent in myriad forms throughout different cultures, it has a place at every table, and for every meal. This staple food has sustained generations and remains just as essential as a nutritious necessity to this day.
Two ingredient vegan roti is the best way to break into bread-making. It's as close to instant gratification as you can get when making bread from scratch, and no experience is required. It's impossible to go wrong with this fool-proof recipe that comes from the cookbook Plant-Based Himalaya by Babita Shrestha.
What Makes This The Best Roti Recipe
Affordable: Flour is one of the least expensive ingredients in the grocery store, especially when purchased in bulk. For a few cents per serving, you can make enough to feed the whole family.
Lightning fast: This is the quick roti recipe you've been looking for! All you need is 30 minutes from start to finish; faster than you could grab something from the grocery store or order delivery.
High-fiber: Whole wheat flour makes this a heart-healthy choice, and great for increasing satiety too. That means you'll stay full and content for longer, without feeling tempted to sneak in a midnight snack dinner.
Perfect pairing: Since roti has a fairly neutral flavor, it goes perfectly with almost every meal. You can even use it as a wrap instead of a tortilla when you're craving burritos next time.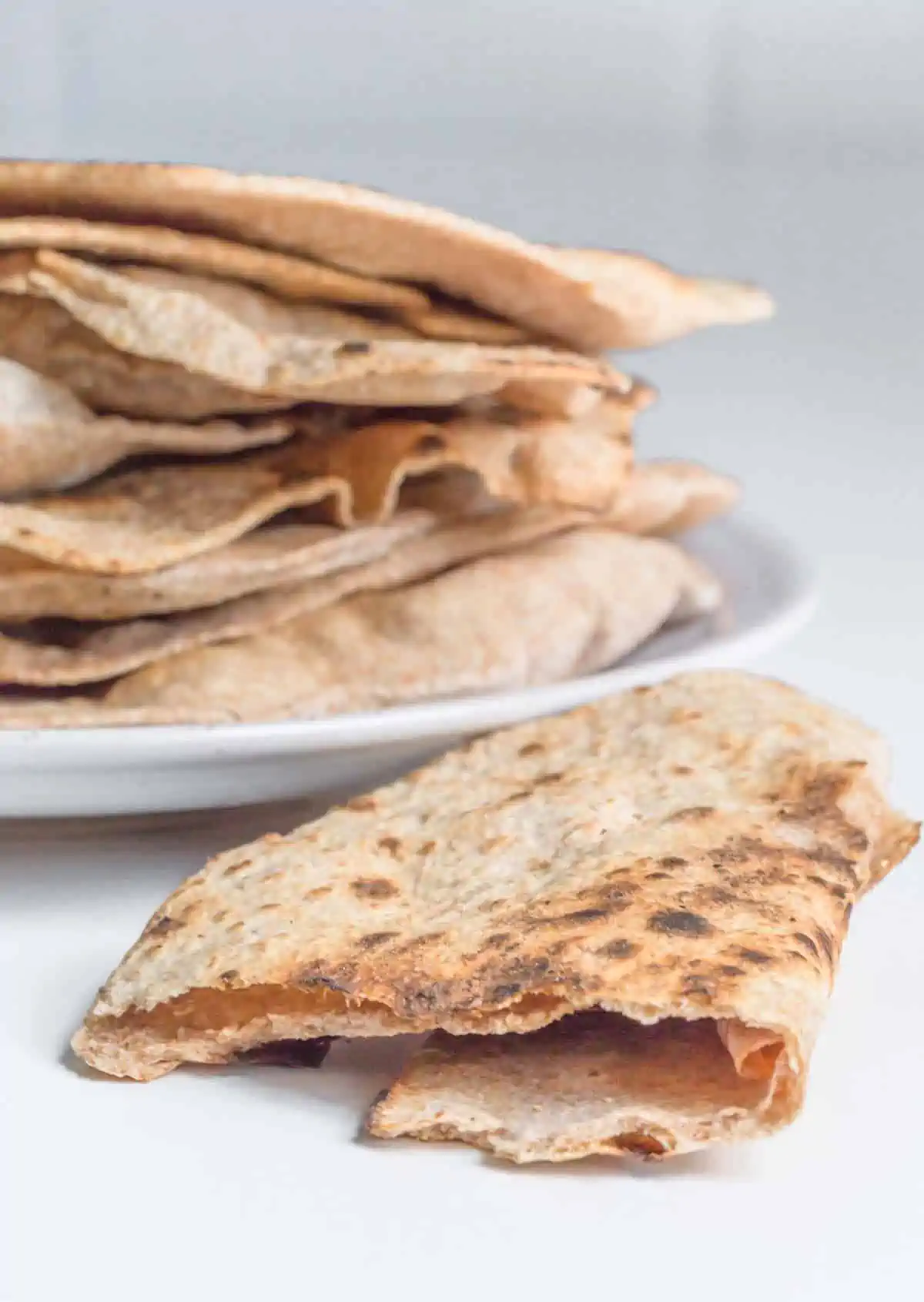 Is Roti Vegan?
Yes, roti are vegan! Many flatbreads are sadly laden with dairy in the form of butter, ghee, yogurt, or fresh cheese, but roti is one option that is traditionally plant-based.
Most recipes just use flour, water, and sometimes salt and oil, which means there are no animal products involved. Always ask at restaurants or check ingredient labels to be 100% certain.
What's The Difference Between Roti vs Chapati
Roti and chapati are two very similar flat breads with names that roughly translate the same way, simply as "bread." Sometimes the names are even used interchangeably, adding to the confusion.
The key difference is that chapati tend to be richer, with more oil and salt, which also makes them denser and chewier while roti are a bit lighter and crisper.
What About Paratha Or Naan?
Paratha are also closely related to these two but are made with a generous amount of butter that makes rich, flaky layers throughout. They're more labor-intensive and time-consuming as a result.
Naan are quite different, being thick and fluffy due to the inclusion of yeast and often yogurt. They're often cooked with a generous amount of butter and garlic, making them quite decadent. Naan can also be stuffed with things like spiced potatoes, sautéed onions, dried fruits, and more.
Ingredient Notes
Whole wheat flour: Standard whole wheat flour is made from ground hard red wheat berries, which can be somewhat coarse and earthy. For a softer, more mild dough, try white whole wheat flour instead. It has all the same nutritional benefits but is more agreeable with kids and picky eaters. If shopping in Indian specialty stores, look for "atta flour" or an "atta/durum" blend.
Water: No need to go crazy here, standard tap water is just fine! Keep it at room temperature to blend easily and don't be afraid to add a bit more if needed. If the dough seems to dry or crumbly, trust your intuition. It gets easier to determine the ideal consistency with practice.
How To Make Vegan Roti
The simplest recipes can sometimes be the most difficult to master, but that's not the case once you know a how to make vegan roti with ease. Here are some expert tips to master making roti on your first try.
1. Getting the dough to the right texture is the most important factor. It should be soft and pliable, smooth and slightly tacky, but not wet or sticky. If it's too loose, add more flour. If it's too dry, drizzle in more water just a few teaspoons at a time.
2. Let the dough rest for 5 to 10 minutes to let the gluten relax. This will make it easier to roll flat. Keep it covered during this time to prevent it from drying out or cracking.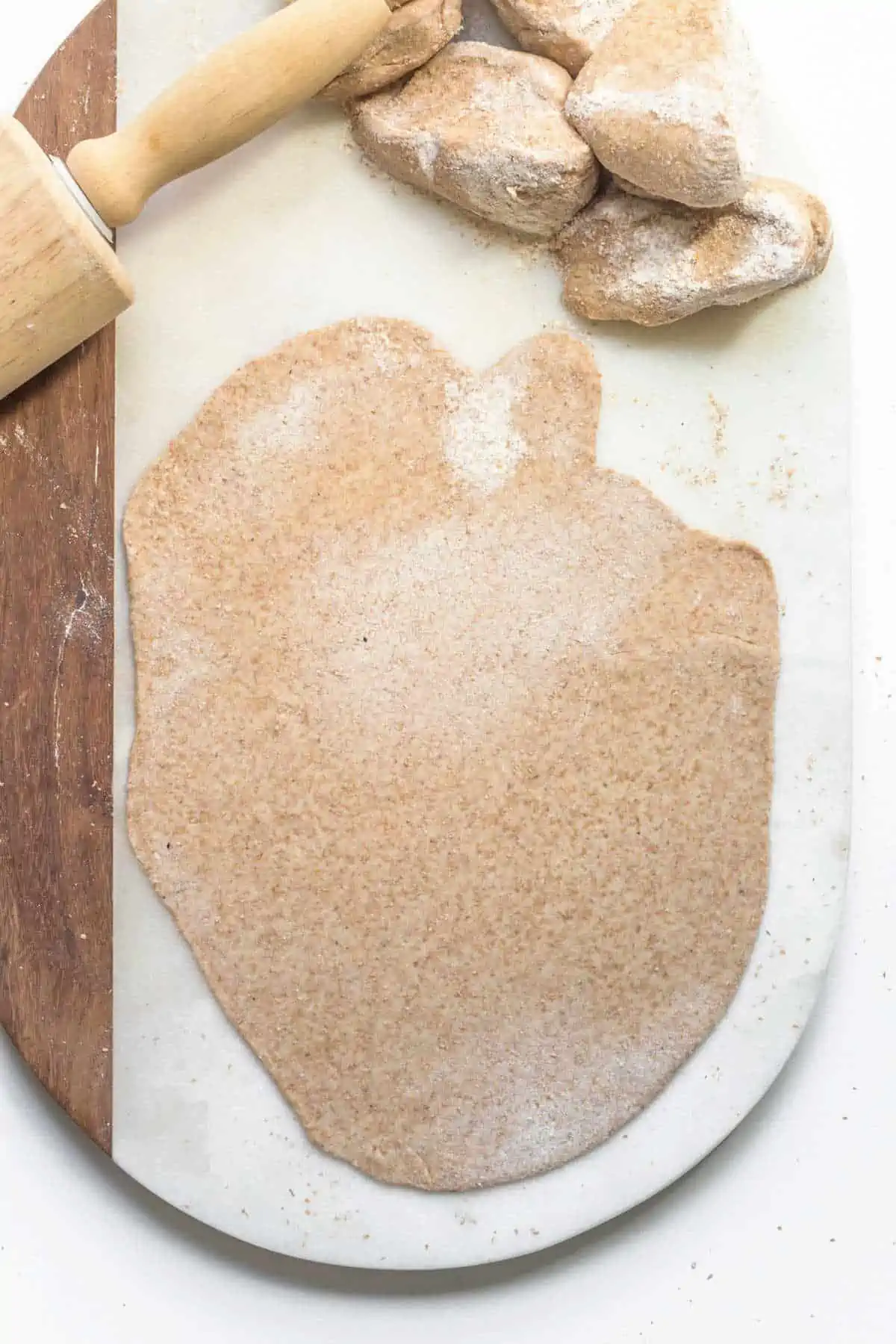 3. Use your hands to begin flattening out individual balls before switching over to a rolling pin. Make sure the rolling pin is coated in flour to keep it from sticking to the dough.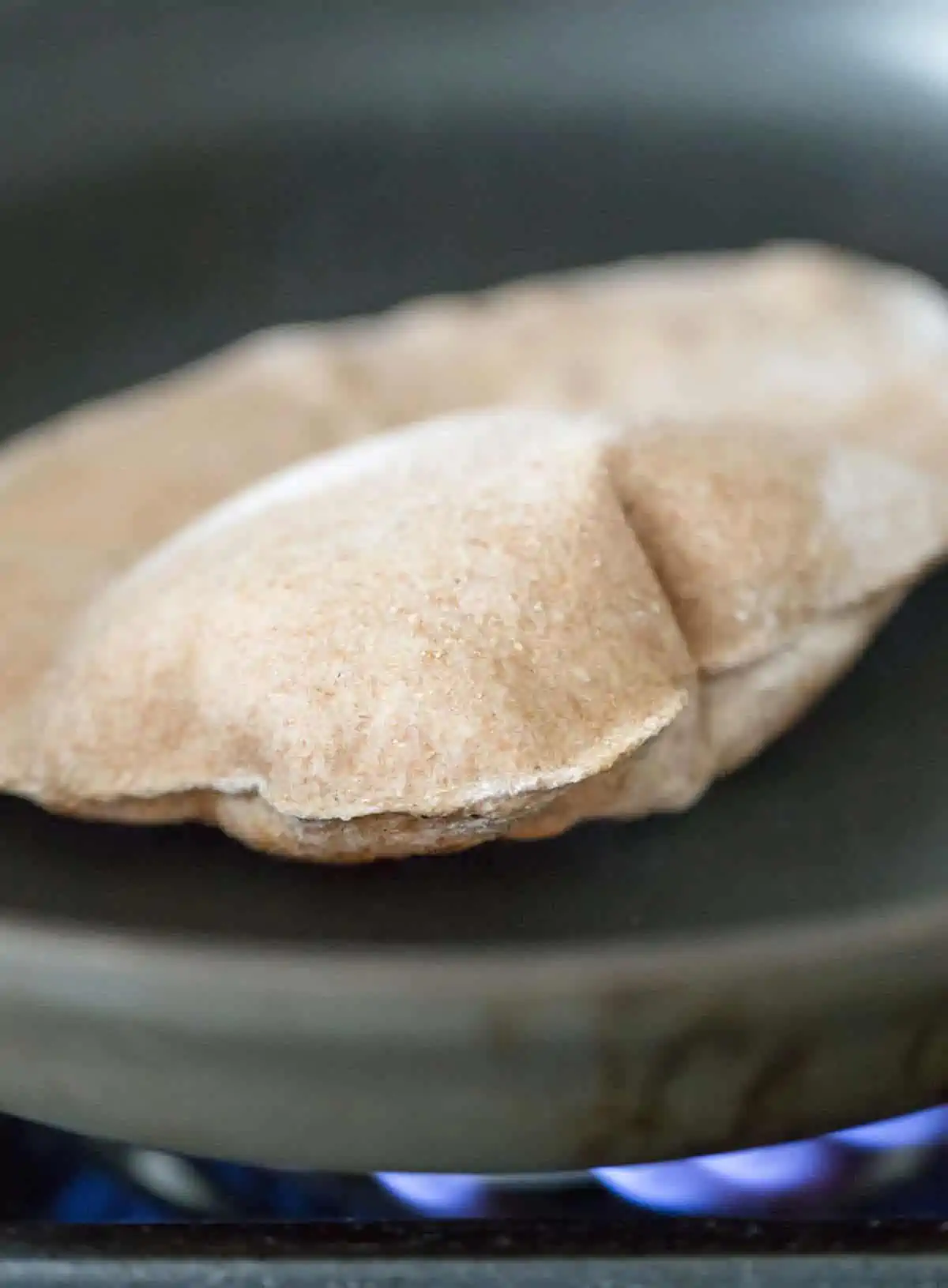 4. Preheat your pan while rolling so that it's ready to go when you are. Cook for a few minutes on each side, flipping when lightly browned in spots and puffed all over.
Ideas For Adding Flavor And Mix-In's To Your Roti
Consider plain roti your blank canvas to adorn any way your heart desires! Here are just a few flavorful mix-ins to add when you want to spice up the usual routine:
Fresh herbs (like cilantro, mint, scallions, or parsley)
Coconut flakes or shreds
Whole spices (like cumin, mustard seeds, and coriander)
Minced garlic or garlic powder
Nutritional yeast or dry/crumbled vegan cheese
Vegan butter melted and mixed with fresh herbs of choice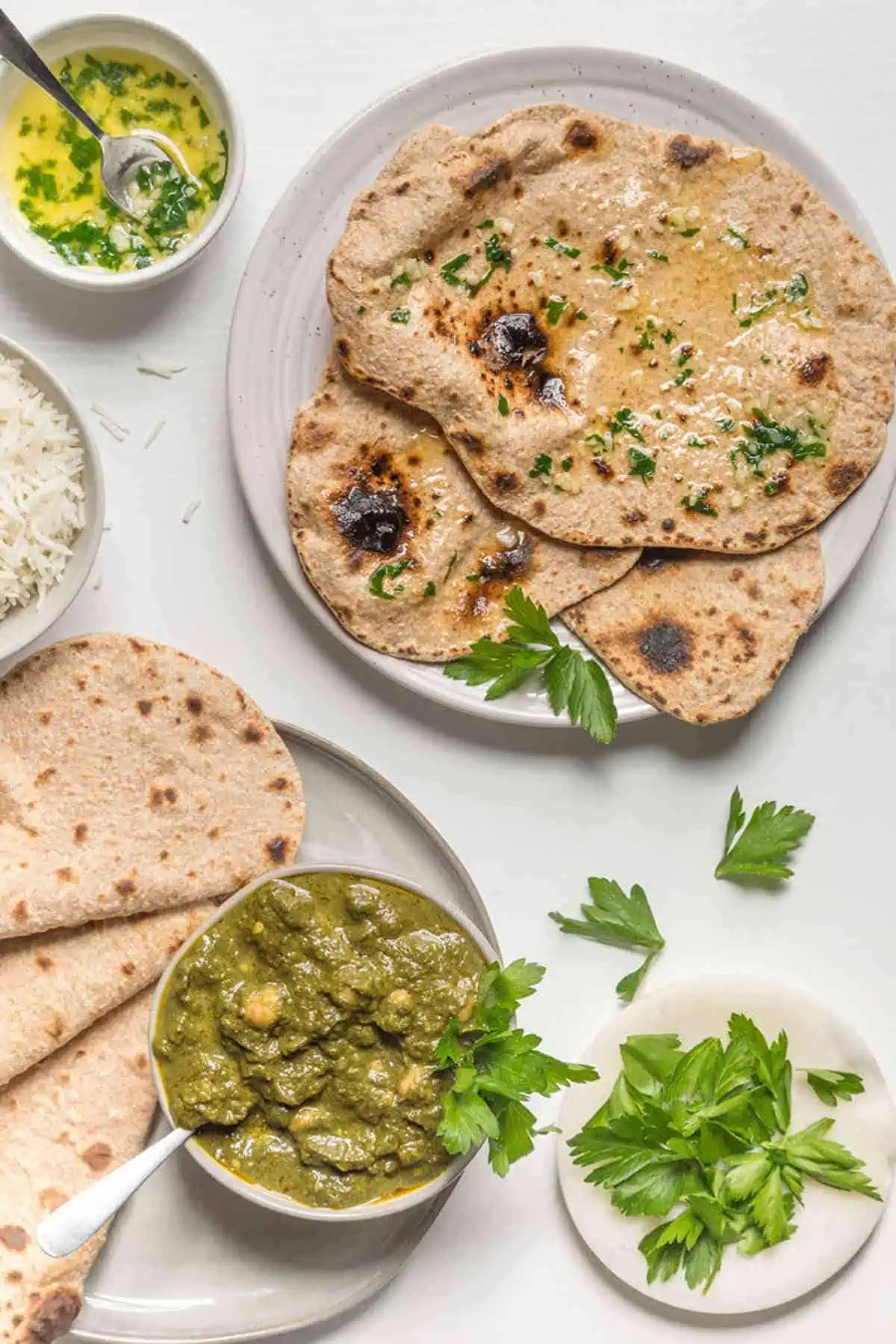 Frequently Asked Questions
Can I make this recipe gluten-free?
Yes! You can make roti with your favorite gluten-free flour blend. Just bear in mind that the texture might be slightly different. You won't have to knead as much or wait between kneading and rolling either.
How long will leftover roti keep?
Leftover roti can keep in the fridge for 2 to 3 days. Once cooled, separate them between pieces of parchment paper and store in an airtight, zip-top bag. Reheat for 15 to 30 seconds in the microwave before serving. For longer term storage, extra roti can be stored in the freezer for roughly 6 months. Reheat for approximately 60 seconds in the microwave, or until warm all the way through.
What's the best pan to cook roti with?
A tawa (a shallow cast iron or aluminum pan) is what's traditionally used to cook roti, but a simple non-stick skillet, crepe pan, or basic frying pan works just as well.
About The Book
This incredible vegan roti recipe comes from Plant-Based Himalaya: Vegan Recipes from Nepal by Babita Shrestha. Babita shares 38 mouthwatering recipes from her home country with over 250 beautiful photos to walk you through the steps.
Babita Shrestha is a plant-based chef, photographer, graphic designer, cookbook author and creative mind behind Vegan Nepal. Babita grew up in the Terai region of Nepal and as the oldest child of the family, it was her responsibility to cook, which quickly grew into a true passion of hers.
Babita not only does a fabulous job of introducing Nepal to the readers, but also highlights her goals of decreasing mass production and consumption of unhealthy processed foods. This book is inspiring and will help you to eat exquisite vegan Nepali cuisine in your own home!
Great Recipes To Serve With Homemade Roti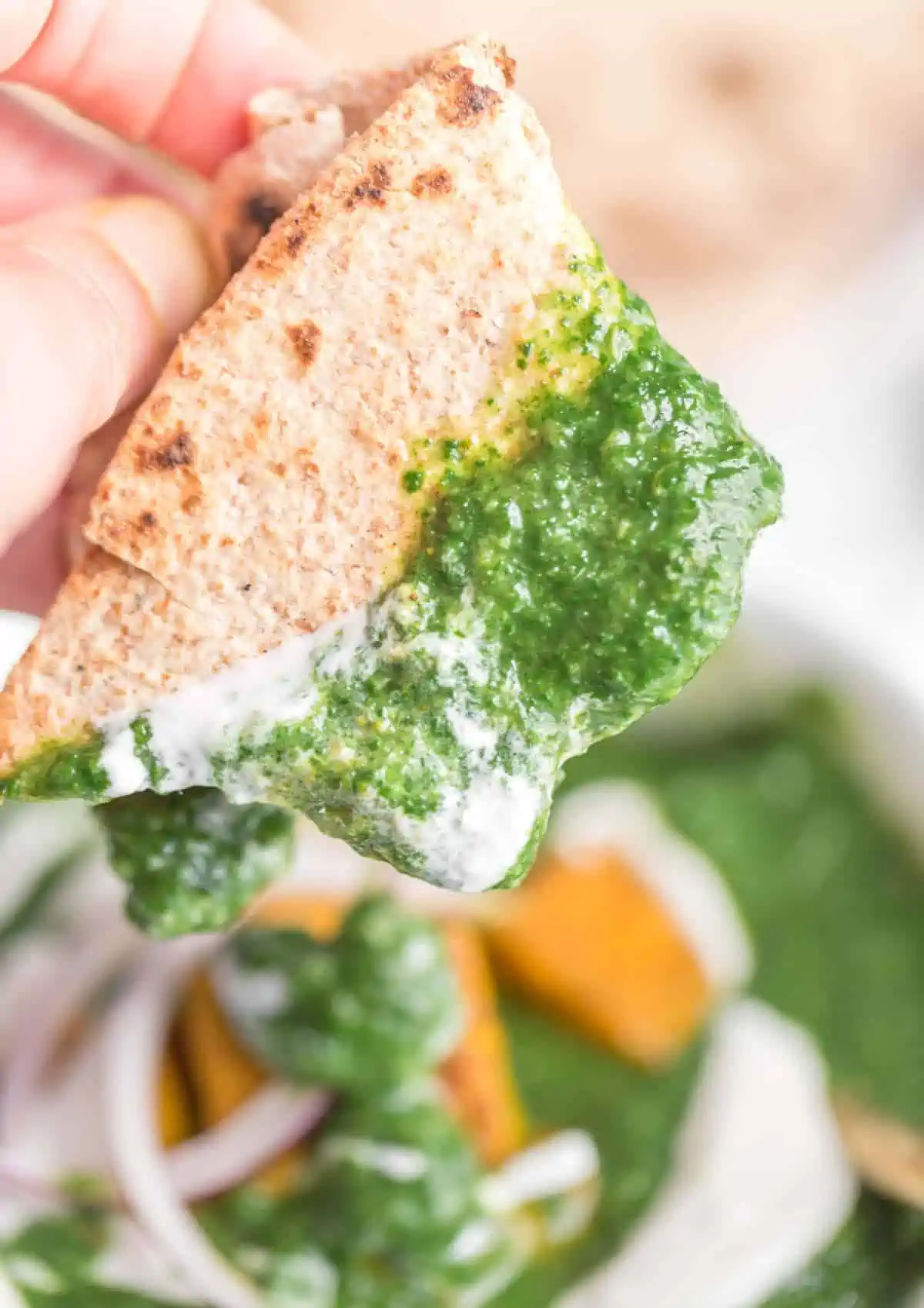 Palak Tofu (Spinach Tofu Curry)
Veggie Chickpea and Spinach Curry
Indian Toor Dal Soup with Turmeric
Spicy Slow Cooker Tomato-Lentil Stew
2 cups whole wheat flour, + 2–4 tablespoons
¾ cups water
Add 2 cups of flour to a large spacious bowl. Save 2–4 tablespoons of flour for dusting later.

Slowly add water and knead thoroughly with your knuckles for at least 10 minutes. Then cover the bowl with a plate for 5–10 minutes.

Knead the dough several times again (at least another minute).

Lightly dust a smooth, clean surface with a little flour. Take a small ball of dough (about the size of a golf ball) and flatten with the palm of your hands. Use a rolling pin to flatten further, to 6–8 inches diameter. Dust the dough as you roll to keep it from sticking to the rolling pin.

Heat a pan on medium. Add the roti once the pan is hot. It will slowly turn brown, and then flip to the other side.

Gently press down on the edges of the roti with a spatula until it puffs. If this is your first time, it might not puff.

Fluffy and soft roti is ready once it's golden brown on both sides. Repeat the process with the remaining dough.
Tips:
Make sure to evenly roll out the dough and get it pretty thin; less than 1/8th inch thick.
When making the dough, do not pour all the water in at once. Instead, add it slowly, a little at a time. It might take a few tries to make fluffy roti, but don't get discouraged. You'll get better with practice.
If this is your first try, tap lightly on the edges of the roti. If you press too hard, the puff may break.
Serving suggestion – Roti is amazing when paired with any curry or used as a wrap. Top it with a vegan herbed butter for additional flavor.
Storage – Leftover roti can keep in the fridge for 2 to 3 days. Once cooled, separate with pieces of parchment paper and store in an airtight, zip-top bag. Reheat for 15 to 30 seconds in the microwave before serving. For longer term storage, roti can be stored in the freezer for roughly 6 months. Reheat for approximately 60 seconds in the microwave, or until warm all the way through.
Serving: 7g | Calories: 119kcal | Carbohydrates: 25g | Protein: 5g | Fat: 1g | Saturated Fat: 0.003g | Polyunsaturated Fat: 0.01g | Monounsaturated Fat: 0.01g | Sodium: 0.2mg | Potassium: 56mg | Fiber: 3g | Sugar: 1g | Vitamin A: 93IU | Vitamin C: 1mg | Calcium: 24mg | Iron: 1mg
Thanks to our recipe testers Jessica Sabbagh and Ruth Havertz.
From Plant-Based Himalaya by Babita Shrestha, published by Red Lightning Books, copyright © 2022 by Babita Shrestha. Reprinted by permission of Red Lightning Books. Article written with support by Hannah Kaminsky and edited by Rachel Lessenden. Photos by J.J. Steele for World of Vegan, all rights reserved.