Whether or not you've used it before, you've likely heard of condensed milk—an essential in many recipes. But what if you're vegan? What can you use instead? Luckily there are several options for vegan condensed milk that's plant-based and dairy-free. Below we've outlined the best options, including store-bought brands and how to make it from scratch.
If you love getting crafty in the kitchen, making dairy-free condensed milk at home is easier than you may think. We've included two recipes using different bases (full-fat coconut milk and any plant-based milk).
What Is Condensed Milk?
Condensed milk is a thick, sweet and creamy liquid that is made by boiling whole milk and sugar together. It has a creamy consistency similar to evaporated milk, but it's much sweeter (it's sometimes called sweetened or sugary condensed milk).
Condensed milk has many uses in recipes including desserts, smoothies, coffee drinks, and more. It also makes an excellent addition to baked goods like cookies, cake, or scones.
Condensed milk is a popular staple in recipes across the globe. It's used in Latin American countries as one of the main ingredients in foods like flan and tres leches cake. In Vietnam, it's used to make Vietnamese coffee. In India, it can be found in Indian sweet dishes and desserts, including Gulab Jamun. Condensed milk has even been used as a secret ingredient in cocktails.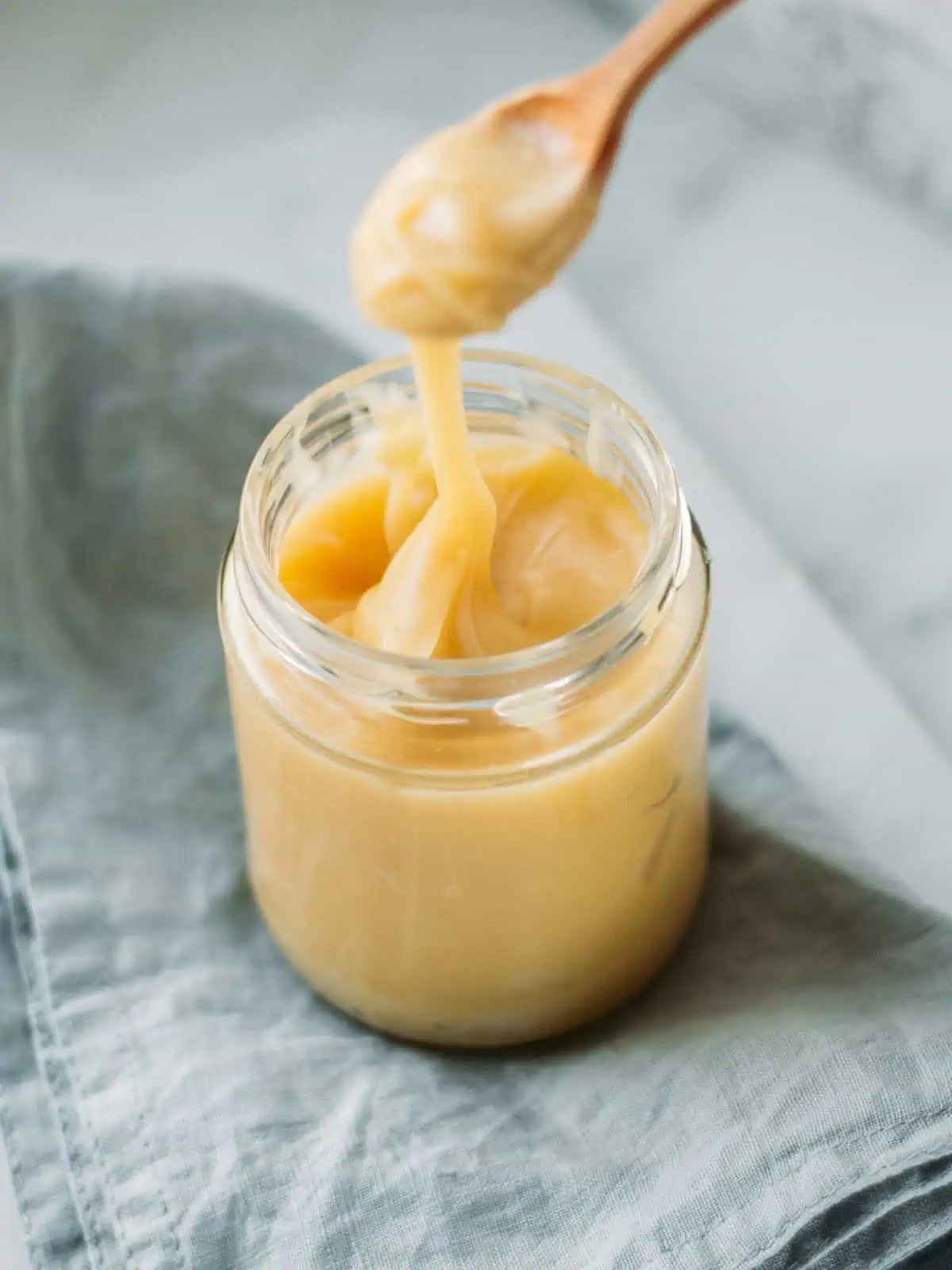 Is Condensed Milk Vegan?
Conventional condensed milk is made from dairy, typically cow's milk. But if you're avoiding dairy, or just want to experiment with some other options, the good news is you have some alternatives.
You can make your own vegan condensed milk at home just by combining coconut milk and sugar together until thickened. We've got a yummy recipe below that explains how to do that.
Store-Bought Condensed Vegan Milk
Can't make your own vegan condensed milk? There are plenty of vegan options available online or at your local supermarket. Here are a few!
Unsweetened vs. Sweetened
Condensed milk is available in two levels of sweetness: unsweetened and sweetened. Unsweetened condensed milk has no added sugars, although some may contain vanilla extract that gives it a sweeter flavor, while sweetened ones have added sugars such as cane sugar or high fructose corn syrup (HFCS).
Let's Do Organic Sweetened Condensed Coconut Milk
Made with only two ingredients: organic coconut milk and organic cane sugar, Let's Do Organic's Sweetened Condensed Coconut Milk is as clean as it gets. The milk is also packed BPA Non-Intent Cans, which means the can linings don't intentionally contain any BPA (bisphenol-A), a widely used plasticizer that has been linked to a number of human health issues.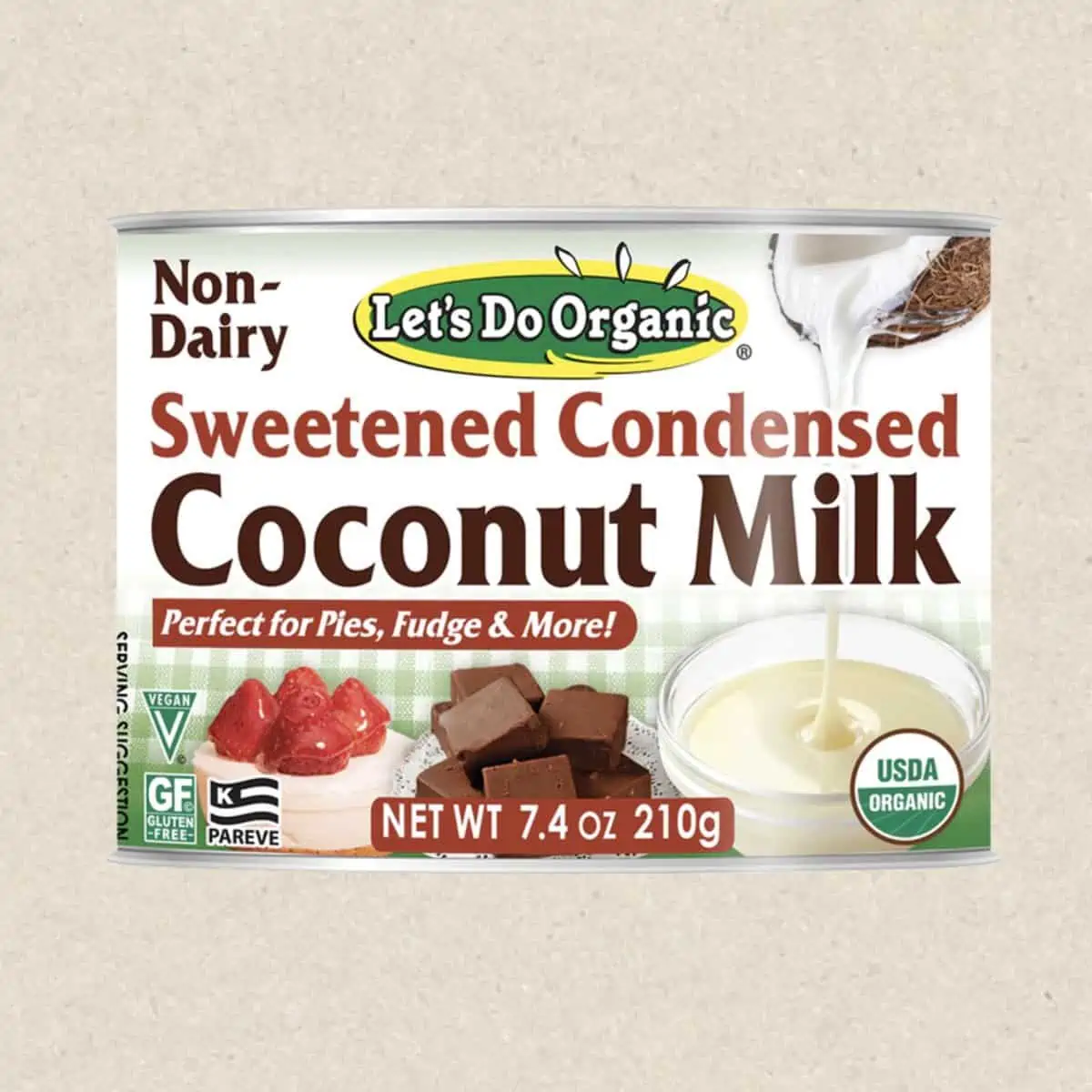 Nature's Charm Coconut Sweetened Condensed Milk
Guaranteed free of dairy, gluten, and soy, Nature's Charm's Sweetened Condensed Coconut Milk works like a charm in all of your favorite vegan recipes. The company spent two years developing the product for a flavor and texture you'll love.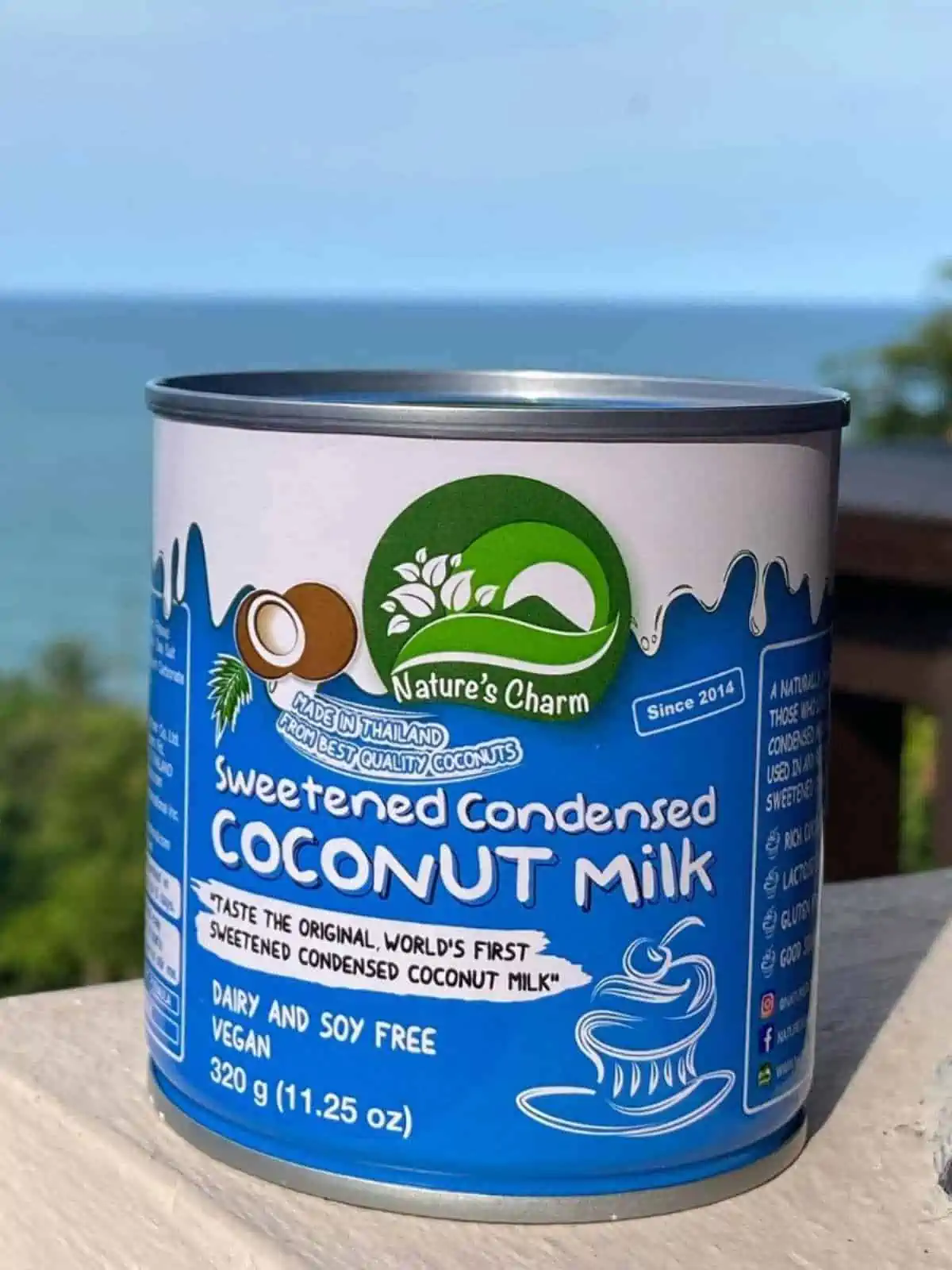 Nature's Charm Sweetened Condensed Oat Milk
Not a fan of coconut? Nature's Charm applied their skills to oat milk, too. They've turned this popular dairy-free milk into a thick and creamy condensed vegan milk without the taste of coconut.
Carnation (Nestle) Vegan Condensed Milk
If you grew up on condensed milk, it was likely Carnation. The dairy giant has responded to the growing demand for vegan versions with its dairy-free condensed milk made from oats, rice, and sugar. But note that it's made on shared equipment so may not be suitable for people with dairy allergies.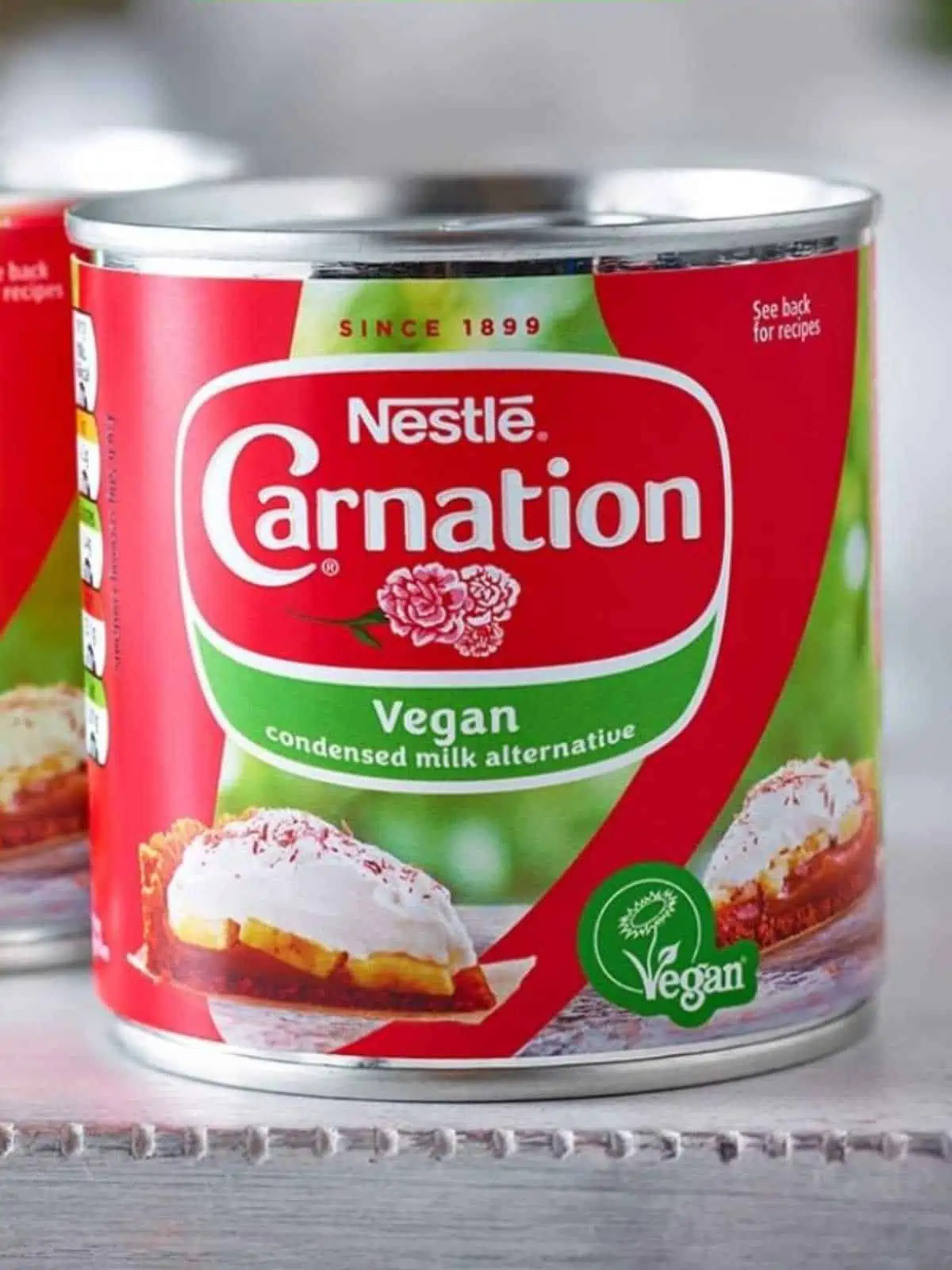 How to Make Vegan Condensed Milk
Now that you know what vegan condensed milk is and why it's so important for maximum deliciousness, let's get into making it.
There are several methods that work well, but we'll focus on one here: using full-fat coconut milk as your base. See the recipe card below for exact measurements and tips.
First, heat up the full-fat coconut milk and sugar over medium-high heat until it starts to gently boil, whisking continuously until the sugar dissolves.
Turn down heat to low and allow it to simmer for about 20 minutes until it starts to thicken and reduces in volume by half, stirring occasionally to reduce lumps.
Remove from heat and add vanilla extract or lemon juice if you want to flavor it further.
Allow to cool to room temperature and store in an airtight container in the refrigerator until ready to use!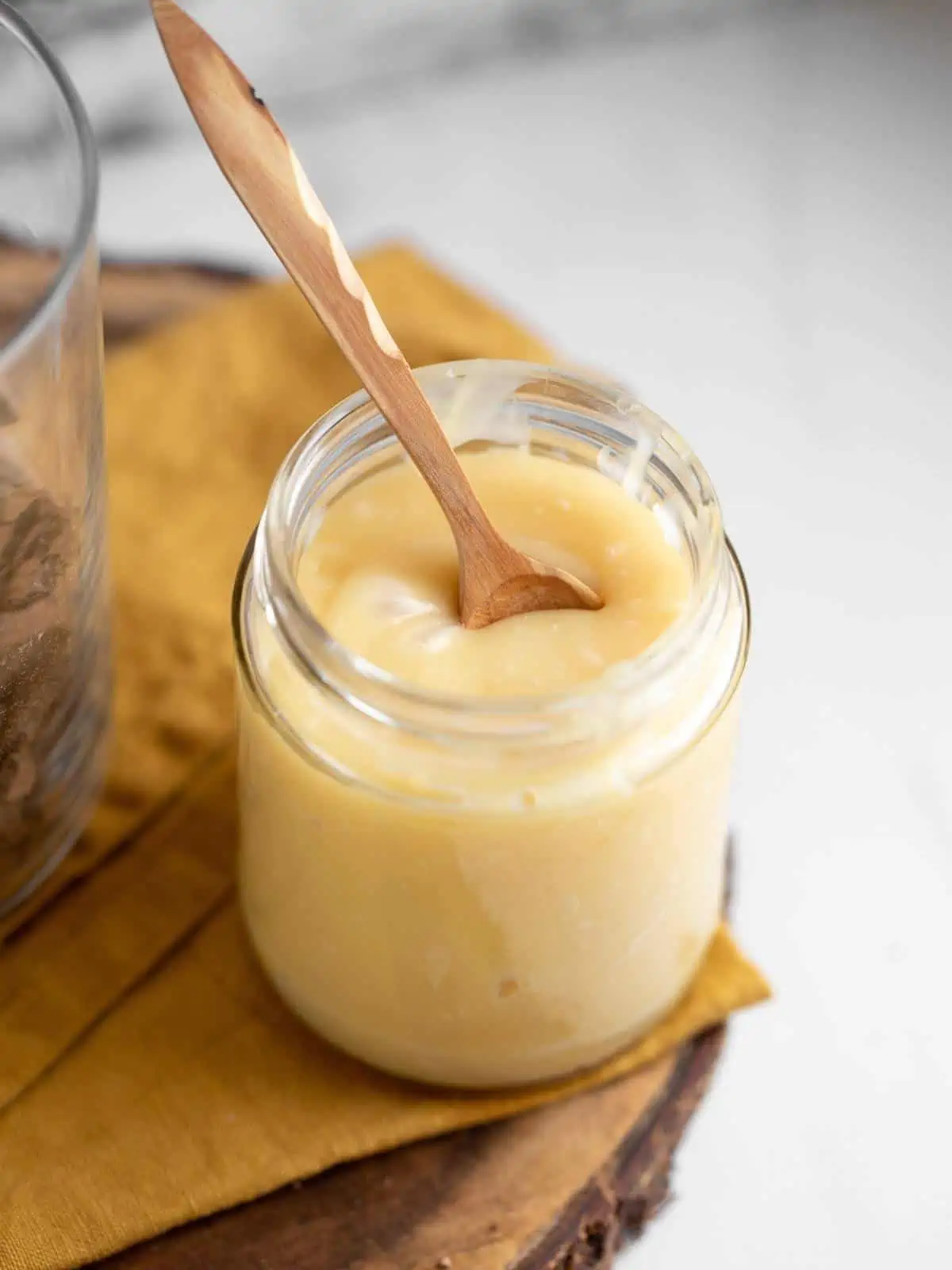 Here are some quick tips for creating the perfect batch:
Use room temperature ingredients. It's important to start with a warm bowl of vegan milk, as this will allow for better mixing. If you're using cold ingredients, go ahead and place them in a pot on low heat until they reach room temperature.
Stir constantly while cooking. This step ensures that no lumps form in your mixture and that all of the ingredients combine together well.
Don't overheat! Once it reaches 120 degrees Fahrenheit (48 degrees Celsius), remove from heat immediately—overheating will cause an unfavorable taste and texture.
Don't have coconut milk? Use any plant-based milk and add vegan cornstarch or arrowroot powder and cook until it thickens slightly (about 10 minutes).
Vegan condensed milk is a great ingredient for pies, cookies, and any other dessert that you want to be deliciously creamy.
Easy Vegan Condensed Milk Recipe
Making your own hoemade condensed milk is easy to do with just two ingredients—coconut milk (the full-fat kind from a can) and sugar! Or our easy tried and true sweetened condensed milk recipe is below.
1⅔ cups canned full-fat coconut milk
½ cup granulated sugar
1 teaspoon vanilla extract, optional
In a wide-based skillet or saucepan (12 inches), add the coconut milk and sugar and turn on heat to medium-high. Stir continuously to dissolve the sugar and bring mixture to a gentle boil.

Turn down heat immediately to low (I used the lowest setting on my stove) and gently simmer for 20 minutes. Stir a couple times while it simmers to redistribute any lumps.

The mixture will reduce in volume by about half and is ready when it is slightly thick and can coat the back of a spatula. It will become an off-white color as the sugar caramelizes and change to slightly translucent.

Remove from heat and stir in the vanilla for a sweeter condensed milk if desired. Allow to cool fully before transferring to a clean, airtight container.
The mixture will be slightly thickened once it's done cooking and will thicken more as it cools. After refrigeration it will be even thicker but will return back to a normal, drizzle-y consistency once warmed to room temperature. Cooking time – If you use a smaller skillet or saucepan, or double the recipe, you will need to simmer longer, 30+ minutes for the mixture to properly reduce and thicken. Storage – Store in the refrigerator for up to a week. Vegan condensed milk can also be frozen. Store in a freezer-safe container for up to three months. Thaw before using. Dairy-free, nut-free, and gluten-free
Calories: 439kcal | Carbohydrates: 41g | Protein: 3g | Fat: 32g | Saturated Fat: 28g | Polyunsaturated Fat: 0.3g | Monounsaturated Fat: 1g | Sodium: 20mg | Potassium: 353mg | Fiber: 3g | Sugar: 38g | Vitamin C: 4mg | Calcium: 22mg | Iron: 2mg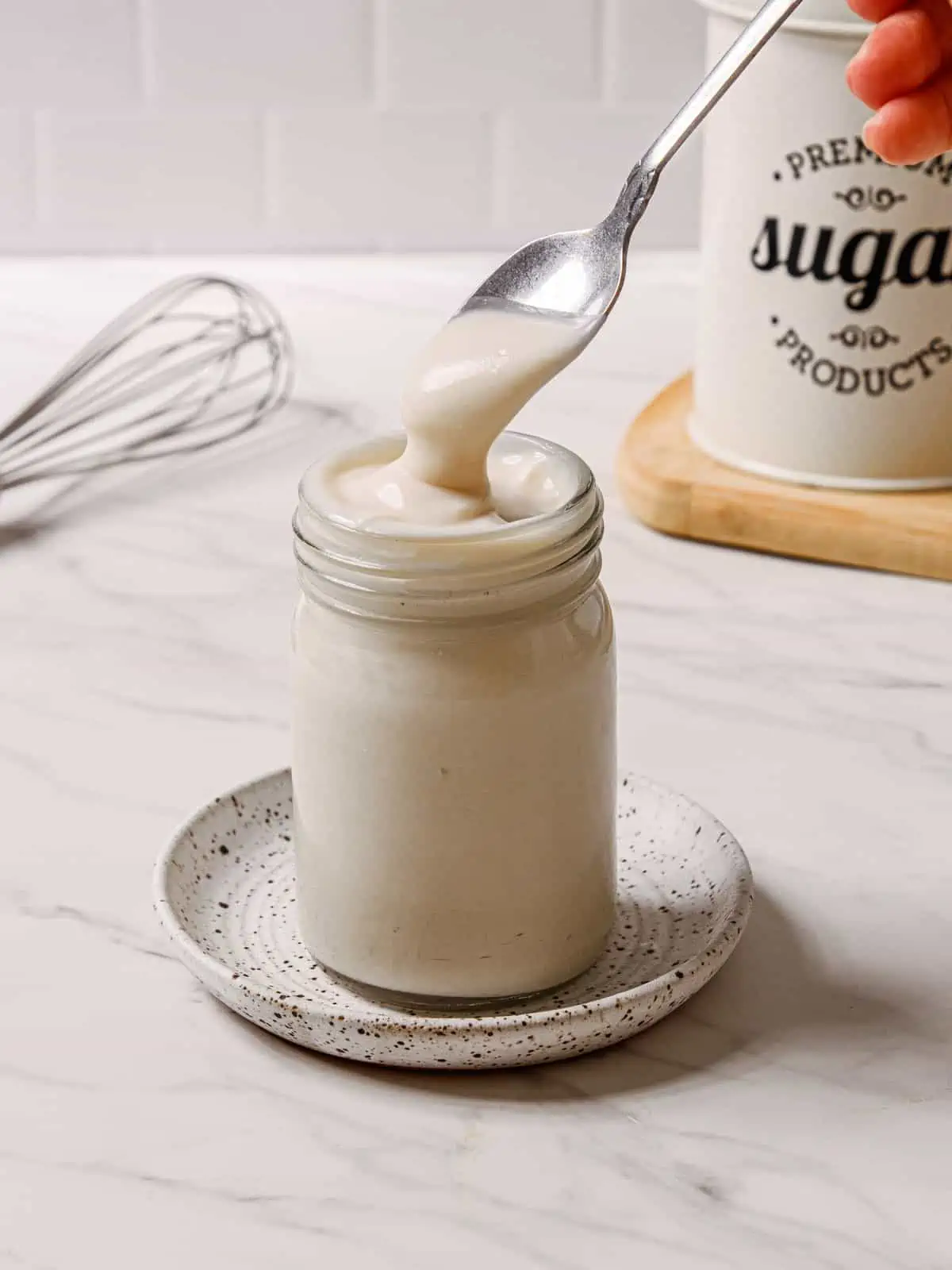 If you're not a fan of coconut flavor or avoiding coconut for health reasons, check out this recipe: Vegan Condensed Milk Using Any Plant-Based Milk.
Why use vegan condensed milk instead of dairy milk?
Dairy can cause health issues
Dairy milk contains high levels of saturated fat and cholesterol and has been linked to numerous health issues. A recent study published in the journal BMC Medicine found a link between drinking dairy and an increased risk of breast cancer in women.
Another peer-reviewed study published in the International Journal of Cancer found men who consumed three or more servings of dairy products a day increased their risk of death due to prostate cancer by 141 percent compared to those who consumed less than one serving.
Aside from the more serious health risks, you may also be sensitive to dairy if you're Black or of Asian descent. Ninety percent of the Asian population are lactose intolerant and about 70 percent of Black people. The good news there is once you stop drinking dairy, symptoms typically go away.
Vegan condensed milk is better for the environment
Agriculture is a leading contributor to climate change. It produces about 15 percent of total global greenhouse gas emissions, and of that, more than 60 percent is from animals. Not only does livestock production increase CO2 emissions, but cattle are the biggest source of methane emissions in the U.S.
Methane traps more heat than CO2, and leading climate scientists say that's going to be a big problem in the immediate future. The recent Sixth Assessment Report from the Intergovernmental Panel on Climate Change called for an urgent 30 percent reduction in methane emissions.
In addition to its impact on global warming, livestock farming is also resource intensive, using up one third of all fresh water. A gallon of cow's milk requires 880 gallons of water, according to National Geographic and the Pacific Institute.
Livestock production also uses up crops such as soy and alfalfa, which are often highly sprayed with toxic herbicides and pesticides. Raising livestock requires large chunks of land and damages soil.
It's the ethical choice
The dairy industry often paints a bucolic, wholesome image, but it's that way for most dairy cows. They are forcibly impregnated, can develop painful mastitis from milking machines, and are separated from their young at birth, among other issues.
A recent survey found 49 percent of Gen Z consumers were ashamed to order dairy in public. Vegan alternatives like oat, almond, and soy are growing in popularity because they're more ethical than conventional milk. As consumers are seeking out transparency and sustainability in their food system, they're also seeking out more ethical options.
This guide to vegan condensed milk was written with support from Jill Ettinger, Creative Compass, Rachel Lessenden, and Michelle Cehn. Photos sourced from brand websites or Instagram channels and Canva. Please note that this article may include affiliate links when available and shopping through these links supports World of Vegan.