Everyone poops. We know this. If you think about it, vegans probably poop way more (which is a good thing)! Eating a plant-based diet is perfect for cleaning out the colon. We could say that "roughage" is our secret code word for a really healthy digestive system. Because of this, vegan toilet cleaning may be even more relevant to our everyday life.
Did you know that not all cleaning products are not vegan-friendly? Can you believe that you can actually make your own concoctions that will clean just as well (or even better!) than ones that you buy at the store? In this guide, we're sharing all of our best toilet-savvy suggestions, time-honored tips, and porcelain goddess gear.
Ready to roll with it, friends? Let's tackle that toilet!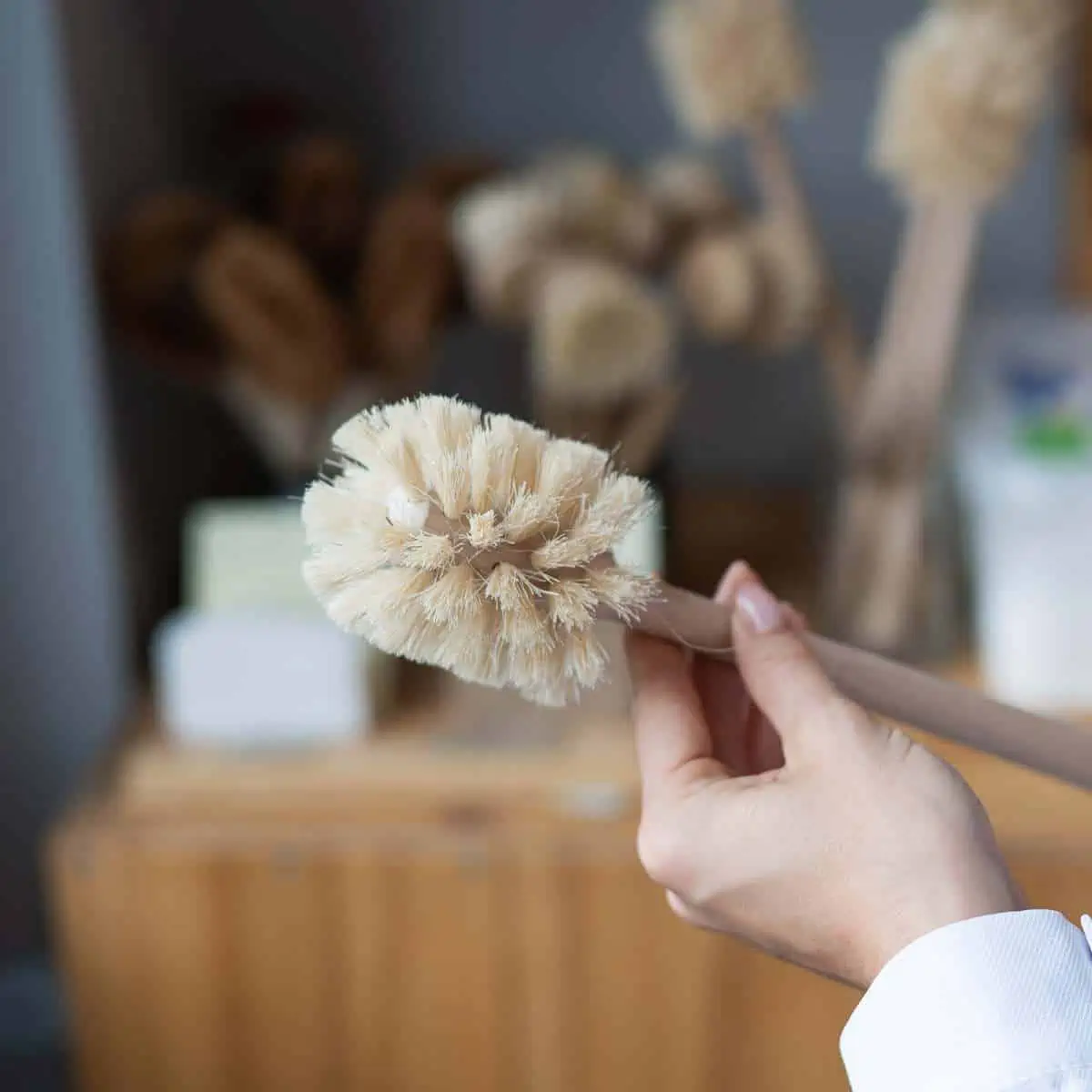 Vegan Toilet Cleaning Checklist
Cleaning the toilet aka "polishing the privy" is not a fun job. No one wants to do it. But, this household chore can be relatively quick and easy if you know exactly what to do (and in which order). Sound a little too finicky? Believe us, doing it this way will save you many minutes of procrastination and aggravation—and leaves you more time for YouTube shorts and TikTok.
✔️ Super Bowl Soak: Dive right in by lifting up the lid and seat and scrubbing out the toilet with toilet cleaner. This way, the cleaner has more time to do its job while you concentrate on the other parts.
✔️ Wipe Out (and In!): Using an all-purpose or bathroom cleaner and reusable cloths, wipe down the outside of the entire toilet (including the top lid, seat lid, handle, underneath lid, top of toilet bowl, and bottom areas of toilet) from the not-so-dirty to the downright-disgusting.
✔️ Floor It: Usually, the bathroom might have a lingering bad smell (even after cleaning) because of dried urine around the bottom of the toilet. Spray undiluted distilled white vinegar or Biokleen's Bac Out (our fav!) around the base of the toilet and let sit for at least half an hour. Wipe up well and you'll definitely notice a fresher smell.
✔️ Go the Extra Mile: If you're really dedicated, clean the walls and floor around the toilet well and, just to be nice, add a new roll of eco-friendly toilet paper, like Who Gives a Crap, Bim Bam Boo, Reel Paper, Betterway, or Cheeky Panda.
What To Put Into a Toilet Cleaning Caddy
If you've never considered a toilet cleaning caddy (it's hard not to giggle at that one!), you totally should! Trying to cart around a ton of cleaning supplies at the same time is a bit like being determined to carry all of your grocery bags from the car to the house in one trip. You might not want to admit that's it just too much. Having a caddy will not only save you time, it'll leave you in a much better mood (and with a cleaner toilet). Here are some of the things you could add to it:
We recommend cleaning the toilet thoroughly once a week and a deep clean once a month for best results.
Toilet Cleaning Hacks
We love hacks! Especially ones that get our butt in gear in order to get things done. If you have a few favorites, make sure to share them in the comments below! For now, here are the ones we use most often:
Use hydrogen peroxide for heavy staining. Pour a cup into the toilet bowl, swish around well (including under the rim), and let sit for a minimum of 30 minutes before flushing.
Did you know that some baking soda brands test on animals? The popular brand of Arm & Hammer is not cruelty-free. Try to choose a brands such as Bob's Red Mill, Relative Foods, Prescribed for Life, or Trader Joe's which are vegan-friendly.
For hard-water stains or rings, using a pumice stone is a perfect solution. Just make sure to thoroughly wet both the stone and the toilet before scrubbing to avoid scratches.
Cruelty-Free Toilet Bowl Cleaners
Not everyone loves DIY recipes like we do (wahhh?), so sometimes a commercially-made product is a better choice. If it's less stressful to grab a pre-made product from the store, we're all for it. Whatever helps you to brush out that less-than-fresh toilet bowl is the way to go. These cleaners are cruelty-free and clean like nobody's business:
Note: According to PETA, Method is cruelty-free and does not test on animals. Keep in mind that their parent company, SC Johnson, does allow some of their brands to test on animals. It's totally up to you whether or not you feel comfortable with this.
Resources for Natural Home Cleaning
Zero waste toilet cleaning can sometimes feel overwhelming or just plain annoying. We've made it a little easier by sharing our favorite eco-friendly, cruelty-free, and vegan options for a healthier home. Once you swap out a few products, you'll wonder why you didn't make the switch sooner. (Just like becoming vegan, are we right?) Here's a good place to start:
Eco-Friendly Cleaning Products
Helpful Home Books
DIY Toilet Bowl Cleaner Recipe
This toilet cleaner recipe is truly inexpensive with easy-to-find ingredients. You can use the same ingredients in your food recipes as in your cleaning products—how handy is that? It also proves that this recipe is non-toxic and even more versatile than you might have imagined.
1 32 ounce mason jar with lid or any container with a firm lid or closure

1 32 ounce bottle with cap or any container with firm lid or closure
32 ounces distilled white vinegar
32 ounces baking soda
essential oils, optional
Into the mason jar, add 32 ounces of baking soda.

Into the bottle, add 32 ounces of distilled white vinegar.

When ready to use, add 1/2 cup of baking soda to the toilet bowl water and shake another 1/2 cup onto both sides of the toilet brush. Scrub underneath the rim and on the insides (especially down the bottom) of the bowl well.

Add 1 cup of the vinegar (it fizzes!) and again swish around under the rim and around the entire bowl of the toilet.

Let sit for at least 30 minutes to overnight before flushing.
Scented Option: If you like scented products or want to disguise some of the strong scent of vinegar, consider adding essential oils with disinfecting properties to either (or both) the baking soda and vinegar. For each 1/2 cup, you can use 20 drops of essential oil. Best if mixed in a bowl or large measuring cup before adding to containers. Best essential oils to use: tea tree, eucalyptus, lavender, lemon, grapefruit, lime, or peppermint. A combination of two is lovely, as well. 
More DIY and Home Cleaning Recipes To Try
Make your home fresh, sparkling, and germ-free with our Homemade Disinfectant Spray! Even better, browse a list of our favorite cruelty-free and vegan Cleaning Products for a Conscious Home and find out which items you might want to replace in the future.
When cleaning out your bathroom, you might also end up spring-cleaning your pantry or restocking your pantry! If you do, our vegan pantry guides is invaluable when preparing, organizing, and clearing out unwanted or expired food or other items.
Bathrooms are the most likely place to store your vegan skincare and makeup, too. Experiment with making your own pretty, personalized solid perfume, sweet-smelling deodorant, or even skin-smoothing body scrub!
Enjoy Your Sparkling Clean Throne
By swapping out your old, animal-based cleaning products for vegan alternatives, you'll not only have a sparkling throne to sit upon, but you'll also be doing your part for the planet.
Plus, if you happen to accidentally spill your kale smoothie all over the bathroom floor, you can rest easy knowing that your cleaning products are totally safe to lick up. Just kidding, please don't lick the floor. But do enjoy your freshly cleaned bathroom!