Are Crayola crayons vegan? What about other crayon brands? Inquiring minds want to know! We'll give you the scoop on all of the ingredients to look out for when buying crayons as a vegan.
We love to color and draw! How about you or the children in your life? Whether you're an adult or a kid, the urge to create and express ourselves through art is strong. So it's finally time to tackle this topic.
As a vegan, you're likely trying to make kind choices and reduce any harm you cause to others. While food is the most obvious way we can "vote" for a kinder world, our other lifestyle choices—even drawing—can have unintended impacts on others as well. That's why it's not only important to consider the things we eat, but also what we wear and what we use on a daily basis.
Crayons and markers may be low on the list of things that we might use every day, but, when the situation does come up, we want you to know exactly which brands are "safe" to choose.
First, let's take a look at what most crayons are made from.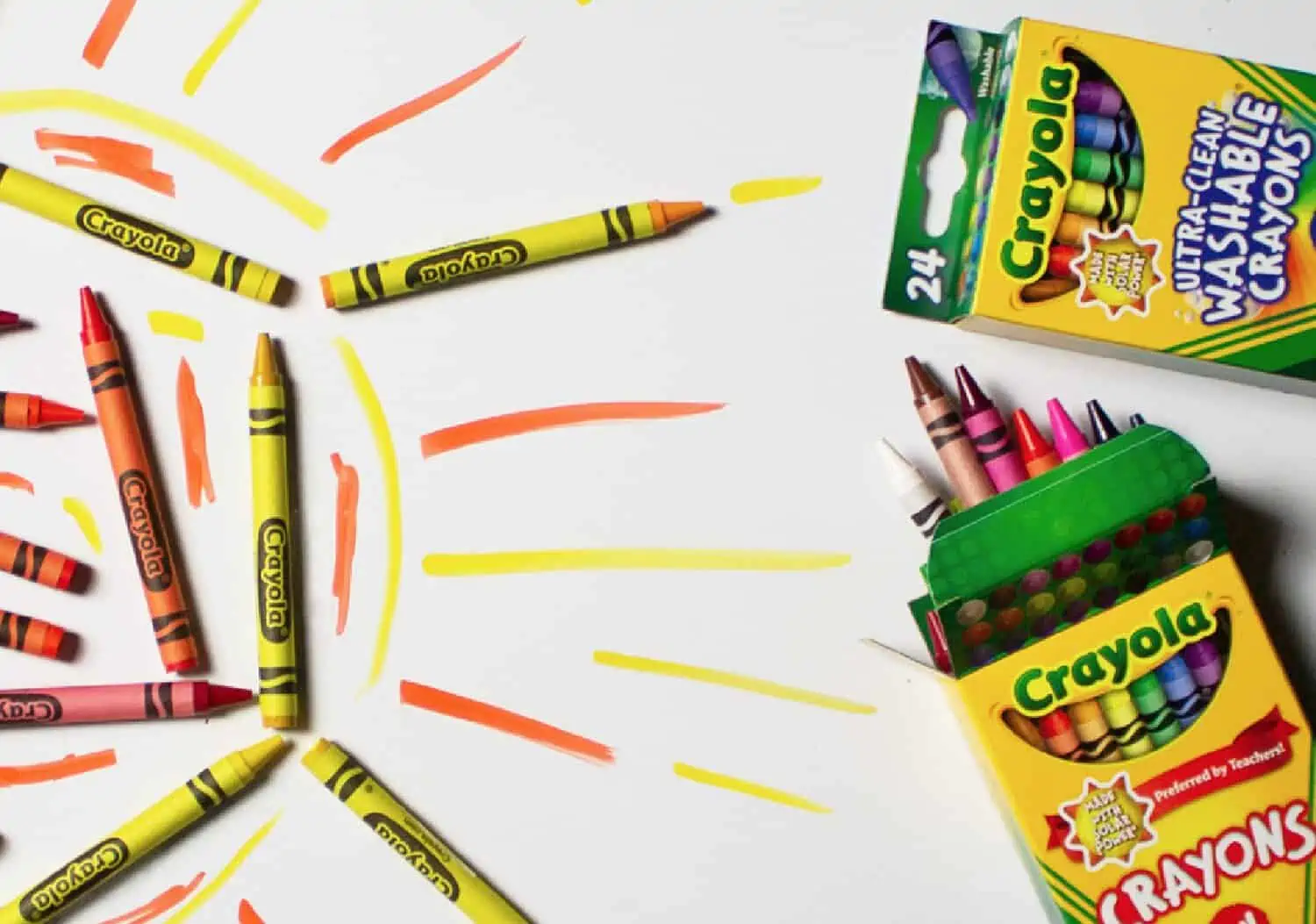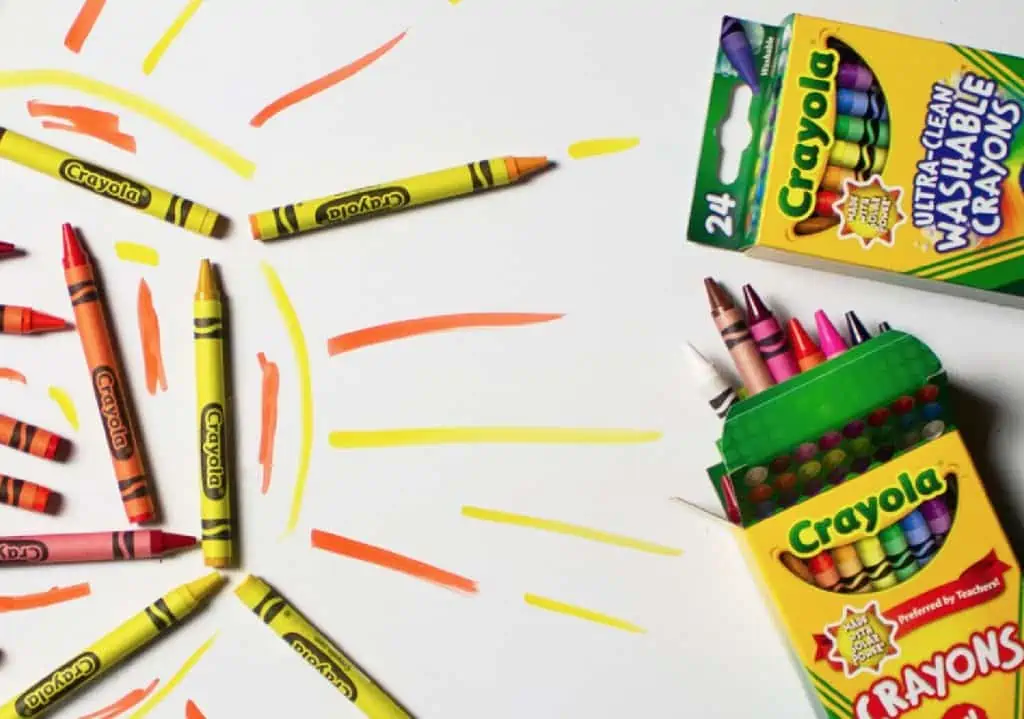 What Are Crayons Made From?
If you're out shopping, chances are that most boxes of crayons you pick up won't be vegan.
Crayons are typically made from a mixture of different waxes like:
paraffin wax
beeswax
carnauba wax
They'll also likely include a powdered pigment and stearic acid.
Both carnauba wax and paraffin wax are vegan-friendly (though paraffin in not the most environmentally friendly). But beeswax, pigments, and other crayon additives can be sourced from animals or contain animal ingredients. For instance, some red pigments can contain insects or even animal blood.
Even scarier is the fact that stearic acid (a common ingredient that is used for texture and stability) comes from beef tallow (fat) and is not at all vegan. Did you know that this is where the distinctive smell of Crayola crayons comes from? *shudder*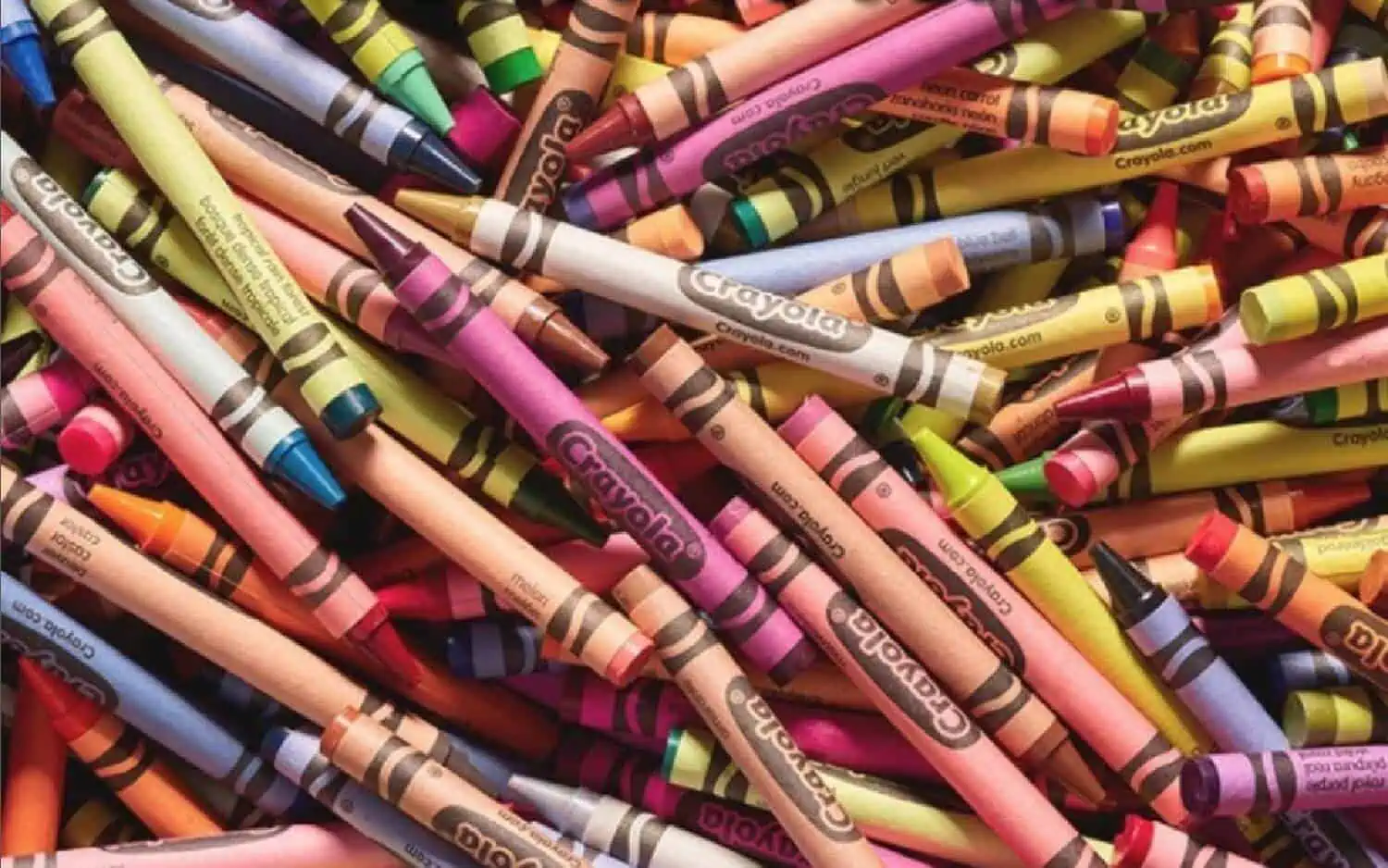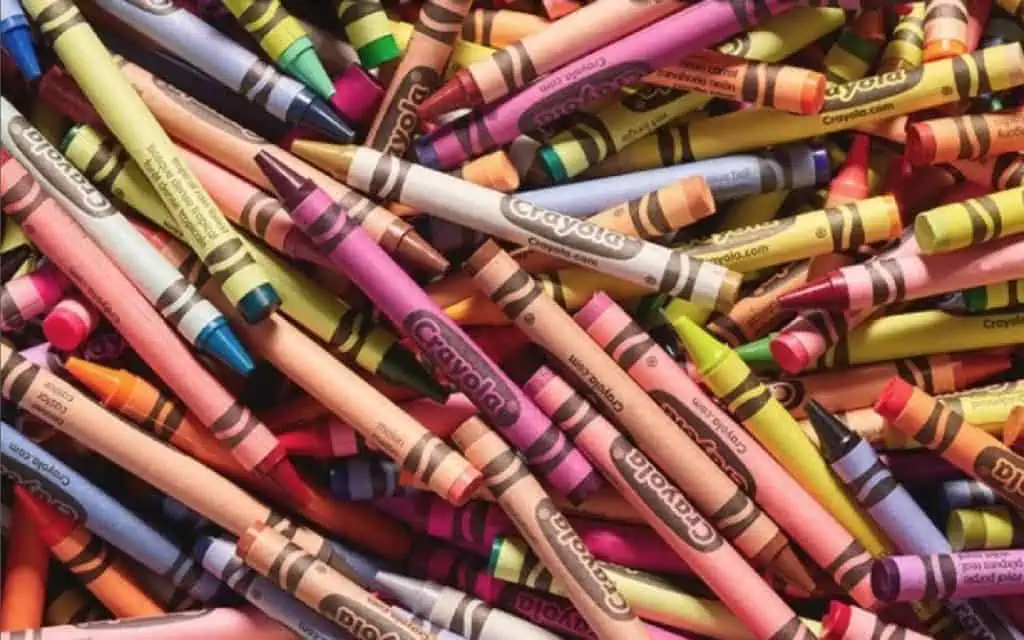 So…Are Crayons Vegan?
Some crayons are vegan, but sadly most are not.
When buying a new box of colorful crayons, your best bet is to purchase them online, where you have more information about the crayon ingredients at your fingertips. Another option is to shop at a reputable art store where you can ask questions, as well as have access to higher quality art supplies.
But what about the most popular crayon brands, like Crayola?
Are Crayola Crayons Vegan?
No, Crayola Crayons are not vegan. The most notorious crayon company is sadly is off the table for animal loving folks.
While Crayola won't share much information about their specific ingredients, they've been pretty clear that that many of their products, including their crayons, contain animal ingredients. Ugh!
Just some of the non-vegan ingredients in their art supplies consist of:
It's frustrating that Crayola is not at all above board with sharing their crayon ingredient list. On the website they only state that the crayons are made up "primarily from paraffin wax and color pigment," but they're not at all clear about the source of the pigment, which "can be natural or man-made." What's up with that, Crayola?
Please do keep the pressure on Crayola to clearly label their products and bring vegan options to the table. Message them on social media, send them a kind email, call the company—these actions may seem small but they have proven time and again to lead to massive change.
Non-Vegan Ingredients in Crayons and Markers
Now that we know which ingredients tend to be acceptable vegan options, we wanted to share which ingredients in crayons and markers are animal-based and the ones to avoid. Luckily, many colorful pigments can easily be created entirely from nature, such as minerals, fruits, metals, and plants.
Stearic Acid – Used to thicken and maintain shape. It's primarily made from beef tallow, though it could be derived from cocoa or shea butter.
Beeswax – Companies sometimes use honey beeswax for the scent, pliability, and glide of the crayon.
Pigments – Crayon manufacturers may occasionally use colors that are derived from insects (carmine from the blood of cochenille lice), animals (sepia from cuttlefish, white from ground eggshells, or tyrian red/imperial purple from the gland of Murex snails), or bones (ivory black comes from bone char).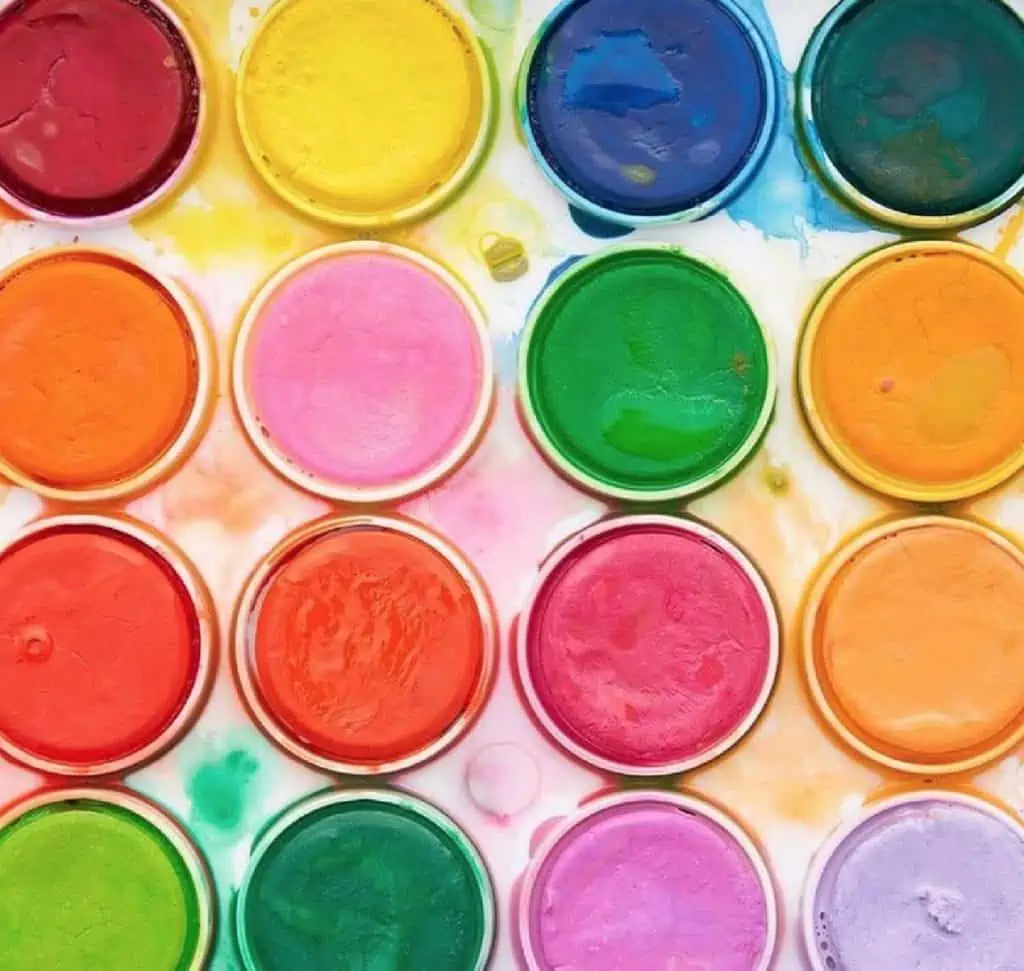 Mostly Vegan-Friendly and Fully Cruelty-Free Art Supply Brands
A brand we wanted to highlight is Faber-Castell. This company has been creating amazing art supplies since 1761 (whoa!) and has been completely cruelty-free for at least 40 years. They have absolutely no animal testing on any level, including their raw material suppliers, which is almost unheard of for such a large company.
The only non-vegan product that Faber-Castell has at this time are their sustainably harvested beeswax crayons. Everything else is vegan-friendly. They joined the WWF Global Forest & Trade Network in 2008 and 95% of all wood used by Faber-Castell is now certified and in alignment with the Forest Stewardship Council.
Another brand to follow is Arteza. Arteza is a relatively new brand put together by a group of artists, designers, musicians, and creators. Their products are affordable, easily accessible online (especially on Amazon), and have a huge range of options.
We recently contacted Arteza to ask if their crayons were vegan (particularly concerning beeswax, honey, and stearic acid) and they were more than helpful. Here is what they shared with us:
So, if you want a collection of colorful vegan crayons, make sure to check out both of these cruelty-free companies!
Best Vegan-Friendly Crayon Brands
Even though we can't count on Crayola crayons or markers for creating beautiful artwork, there are still a number of caring companies that offer mostly vegan-friendly, cruelty-free products such as crayons, markers, and colored pencils. Here are our fan favorites:
Crayons:
Pencils:
Derwent – (Coloursoft, metallic, pastel, and graphitone pencils are all vegan-friendly. List of vegan products here.)
Faber-Castell (A fully cruelty-free company. All pencils, pens, erasers, and Polychromos colored pencils are vegan.)
Lebze (Colored pencils that are non-toxic, odorless, washable, and free of irritants.)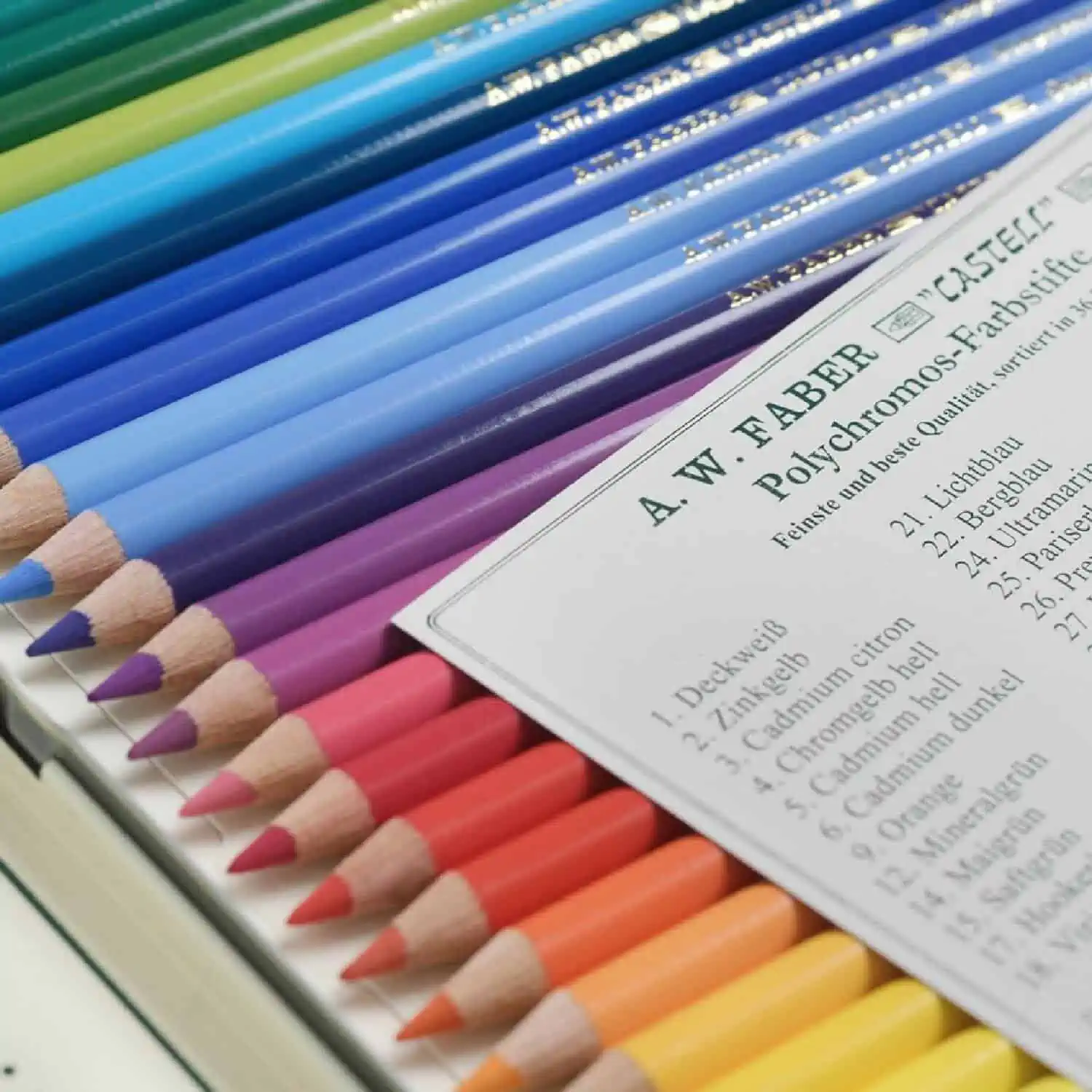 Vegetable Crayons for Babies:
Think about supporting small businesses by searching Etsy for "vegan crayons". You may be able to find shops that offer homemade, high-quality plant-based supplies. There are so many cute options such as dinosaurs, alphabet, robot, build your own sets, and even more adult focused art supply crayons. Here are a few suggestions to get you started: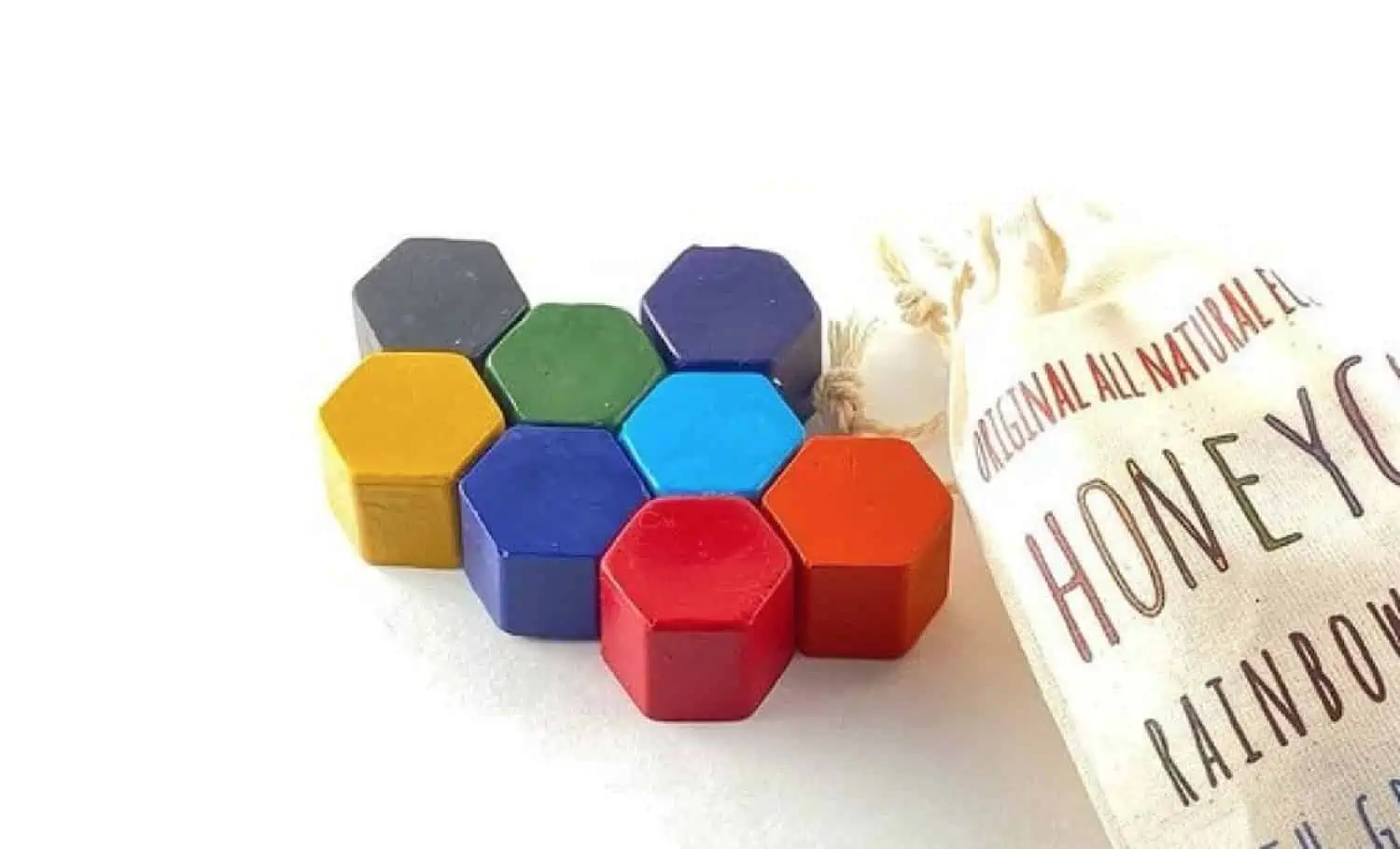 Edible and Unique Crayons
Why Buy Vegan Crayons?
Because we love animals, we'd never want to use crayons or art supplies that contain any animal products or are cruelly tested on innocent creatures. Knowing exactly which ingredients are included in any product that we use is important. Not only for our health, but for the health of the other living beings and the environment.
Vegan crayons are a better choice overall because the ingredients are transparent (so we know what we're dealing with) and are kinder to animals. They're also usually safer for children if they get ingested or absorbed into their skin.
It's pretty disappointing that Crayola crayons are not vegan. But, there are plenty of vegan crayon options in varying price ranges, for all ages, and are easily accessible online. We hope that you find a brand that you and your family love from our list!
Final Thoughts on Vegan Crayons
We want you to feel comfortable about buying both vegan-friendly crayons and markers. We hope we've helped to explain why Crayola crayons and markers are not vegan. Now, you have the information you need to choose the brands that are best for cruelty-free coloring time.
Companies may change their ingredients at any time, so please be sure to double-check before purchasing any supplies that we've listed here. If you find any new and exciting crayon or marker brands that are vegan, please comment below. We're always on the lookout for better options and more ways to inspire and encourage creativity for both adults and children!
Vegan Crayons and Art Supplies Q&A
My family members use Sharpies at home and at work. Are Sharpies vegan?
As with Expo markers, Sharpies are probably vegan, but they cannot be confirmed either way. The company does not provide a full ingredient list, but most of the ingredients such as the various alcohols used are vegan-friendly. When it comes to additives, that's where it's hard to tell. If they use animal ingredients in their dyes, then they are not vegan. But, again, it's hard to tell because there is no transparency about the dyes or whether the company itself is cruelty-free. The four types of Sharpies (whether water, wax, oil, or alcohol-based) may be vegan-friendly, but there's no guarantee.
I use a lot of ordinary, cheap pencils for work. Are pencils vegan?
The lead core of pretty much any pencil is vegan-friendly. It's usually a mix of graphic, clay, and water. The only questionable part of the pencil is the wood surrounding the core, which can be made using a casein (dairy milk-based) glue, which is particularly good at securing the wood pieces together. If the company does not use casein glue, then the pencil is vegan. One brand that guarantees that their pencils are cruelty-free and vegan is Faber-Castell.
More Vegan Art & Supplies To Explore
This vegan art supplies guide is not sponsored by any of the brands or companies mentioned, and we only share products and companies we sincerely adore. This article about vegan crayons and vegan markers was written by Gina House and edited by Michelle Cehn. Crayon and marker photography supplied by art supply companies' Instagram pages. Please note that this article may contain affiliate links which supports our work at World of Vegan.