Elizabeth "Lizzy" Benway is love personified. She moves with love in her step; speaks with love in her voice; writes with love from her heart.
A registered nurse at Cleveland's UH Rainbow Babies and Children's Hospital, her patients' experiences are made that much less scary thanks to Lizzy's loving, nurturing approach.
Her guiding values, queer identity, and vegan ethics, it should come as no surprise, are likewise rooted in love. So when World of Vegan learned about Lizzy's magical vegan wedding to her partner, Tiffany, we were touched by their abundance of love for the world and for each other.
Join us on a journey where love knows no boundaries, and every detail radiates with thoughtfulness and inclusivity.
Finding Queer, Vegan, and POC Wedding Vendors
"Going into our wedding planning we really wanted to work with queer, vegan, and/or POC vendors," Lizzy said.
"The first venue we visited was Graffiti HeArt, which is a nonprofit arts building. The moment we walked in we knew it was the place. It was unique, cozy, covered in art, had paintings of Ruth Bader Ginsberg hanging in the entrance, and the building was spray-painted with lots of fun rainbow colors. After we [decided] this was where we wanted our wedding reception, we found out it was owned by a queer woman. It felt all too surreally perfect for us. We reserved it that same day."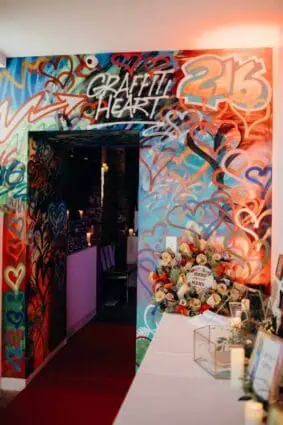 Planning an Innovative and Inclusive Vegan Wedding
Their wedding invitations, beautifully designed with pride-inspired colors, were just the beginning of their efforts shedding heteronormative stereotypes in favor of inclusive experiences. The wedding party was filled with their list of "best people" (rather than gender normative wedding roles).
Their bachelorette party was dubbed "Bachqueerette Party" which featured cookies from the Cleveland-based vegan and allergy-friendly Bee-Loved Cookie Co., who also supplied the cookies for the wedding.
After a stay in a beautiful cabin in Ohio with different themed areas (including a featured drink, playlist, and clothing style for each section of the cabin) they treated themselves to laser tag and vegan pizzas.
"It was more fun than I could have imagined," she said. "Ohio Pie Co. makes the most delicious vegan pizzas. Our favorites are the Firebird, Heart of it All, Fried Dill Pickle Chip, and Chicken Club – all vegan, of course."
Lizzy's brother's screen printing business, BSP Apparel Studio, supplied hats for the party, and the brides made a conscious decision to avoid labeling their group a "tribe" out of respect for indigenous peoples.
Their rehearsal-dinner-without-rehearsing was held at their favorite local restaurant, Cleveland Vegan, where they rented out the dining room and offered their families and best people a delectable list of selections.
"The chickpea picatta was our choice and our favorite thing ever!" she said. "The stuffed mushrooms were our favorite appetizer. They also made [us] a rainbow layered cake for dessert…It was a big hit and so beautiful."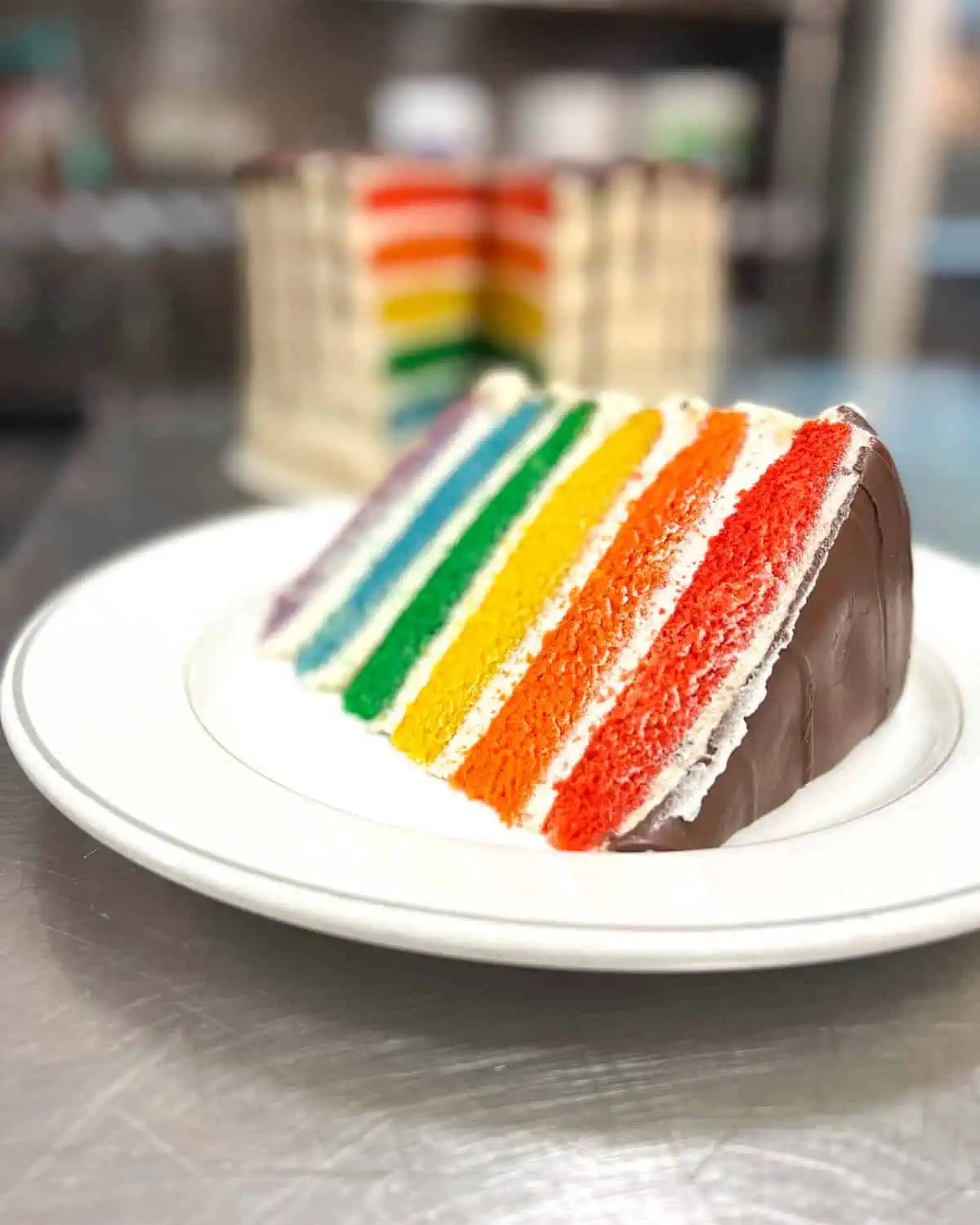 The Rainbow Wedding Dress-less Attire
Tiffany's wedding day outfit was from "Gender Defying Fashion" brand Kirrin Finch, which specializes in challenging fashion industry norms and supplying menswear-inspired nonbinary, androgynous, and tomboy apparel for female and non-binary bodies.
Lizzy's stunning custom wedding day jumpsuit was made by a local sewist, Made by MB, with whom she instantly connected.
"MB completely understood my vision and made it even better. She made sure to use vegan fabric that was still soft, formal, and perfectly white," Lizzy said.
The designer creatively laced delicate rainbow ribbon through the back of the Lizzy's wedding outfit creating an incredibly unique, meaningful, and almost mesmerizing accent.
"She even made her own bottle cap buttons for me. I collect bottle caps and really wanted to incorporate them into my jumpsuit. She took my idea and ran with it. I am so incredibly happy with how it all turned out. She did an exquisite job and was so fun to work with."
Captivating Rainbow Wedding Hair
The beautiful pop of rainbow colors in Lizzy's hair was the work of none other than Cleveland hairstylist Amanda Schnirman. Amanda incorporated the same ribbon from Lizzy's outfit into her braids to create a seamless look for the big day.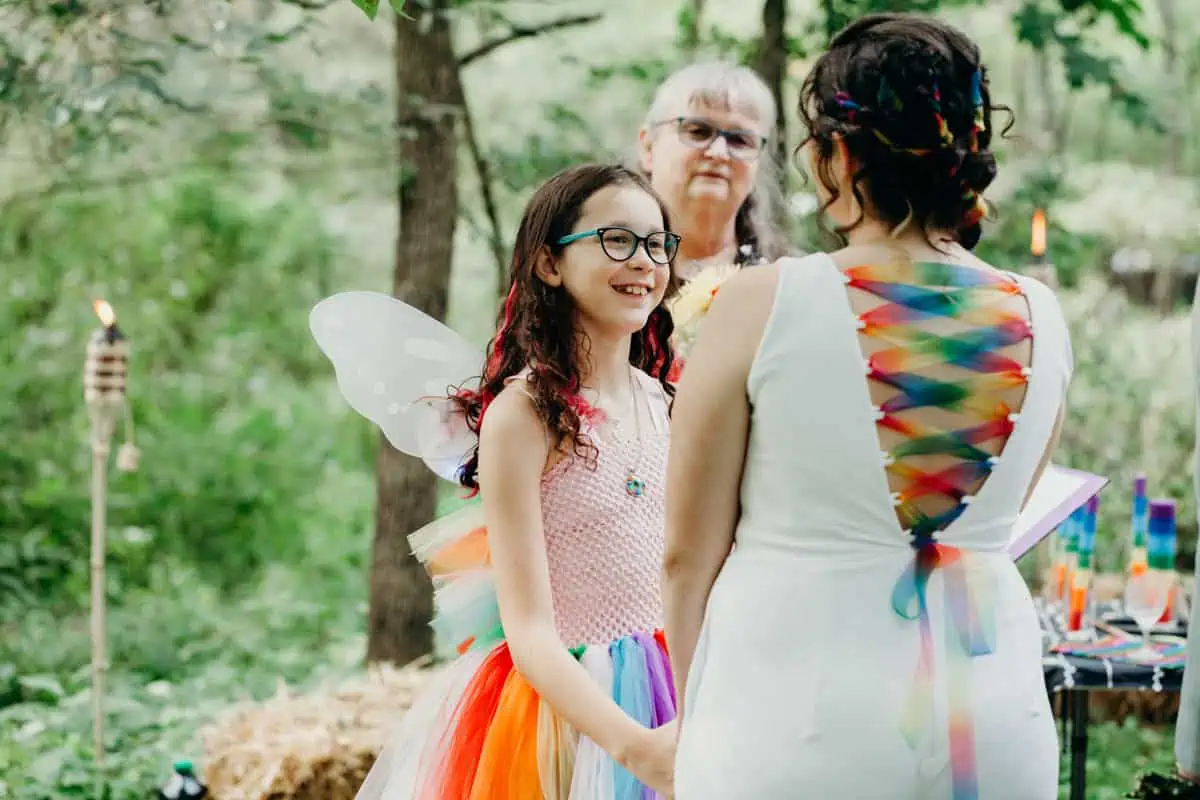 Enchanting Secret Garden Ceremony
As for the ceremony itself, Lizzy and her partner, Tiffany, spent more than a year converting the unkempt "Secret Garden" at her parents' "Rainbow's End" house into a wedding-ready oasis.
"It's hard to fully grasp the transformation the garden went through in pictures," she explained. "We tried to plant [non-invasive] things that were native to Ohio. We really wanted to keep the 'Secret' aspect of the 'Secret Garden,' so we planted some more tall grasses…we spent a lot of time building a beautiful path for everyone, and us, to walk down."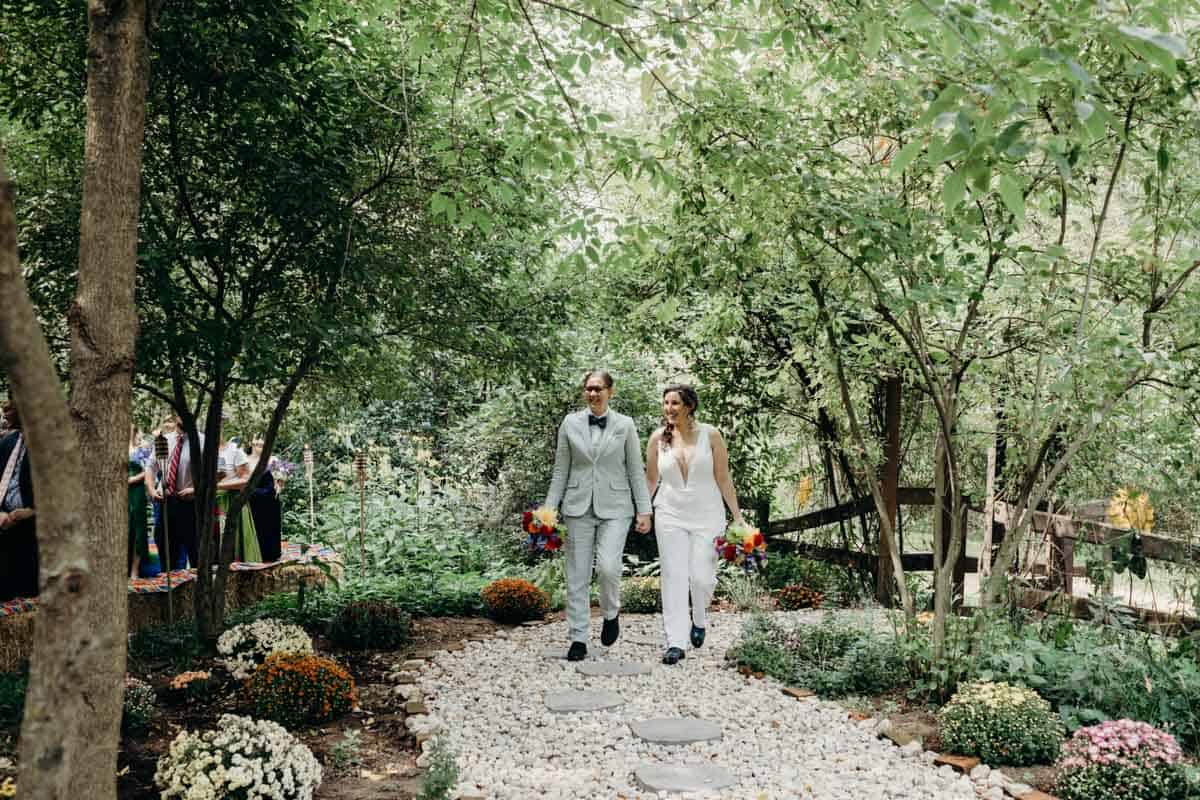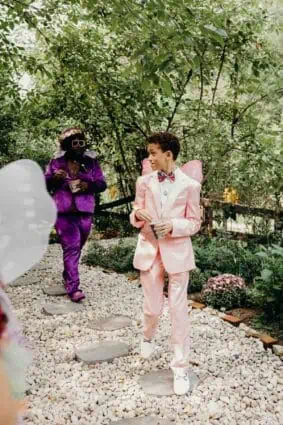 Flowers for the big day were provided by Bleil's Secret Garden—a business name that felt like kismet, Lizzy said—and were matched to the wedding party's attire.
Surrounded by their best people in rainbow-colored outfits and standing beside Tiffany's ordained mother, the two soulmates delivered breathtaking vows befitting of their love for one another.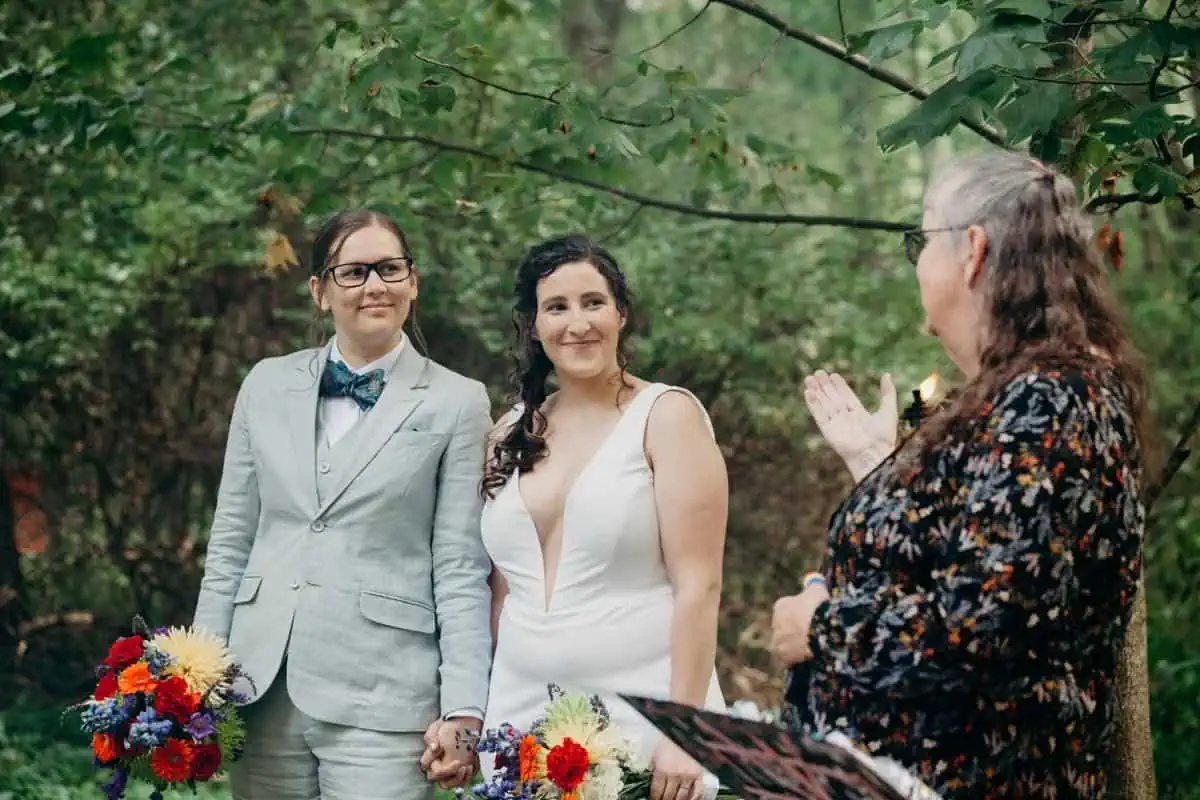 "I also wrote vows for my stepdaughter, as I am not just marrying Tiffany, but also committing myself to her daughter as well," Lizzy explained. "I wanted Kenzley to have a moment to also consent to this marriage and feel connected to it."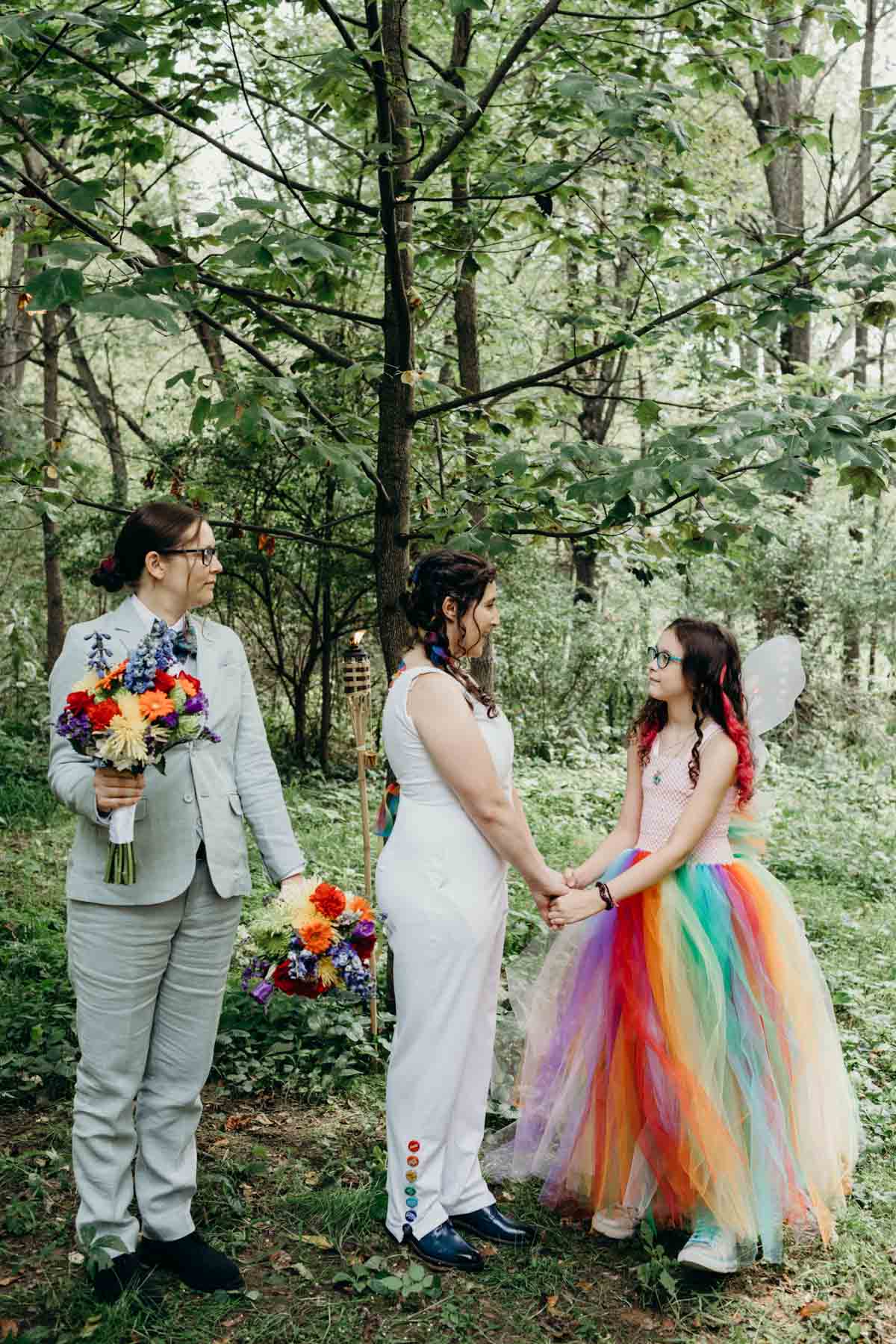 Special Wedding Traditions and Colorful Wedding Ideas
The blending of traditional and creative wedding ideas didn't stop there. The two planned innovative ways to incorporate their cultural and familial identities into the wedding ceremony.
"We also had a fire going during the ceremony, and had everyone throw something into the fire that represented their hopes, dreams, love, and support for us," Lizzie said. "We then used that fire to light our rainbow unity candle."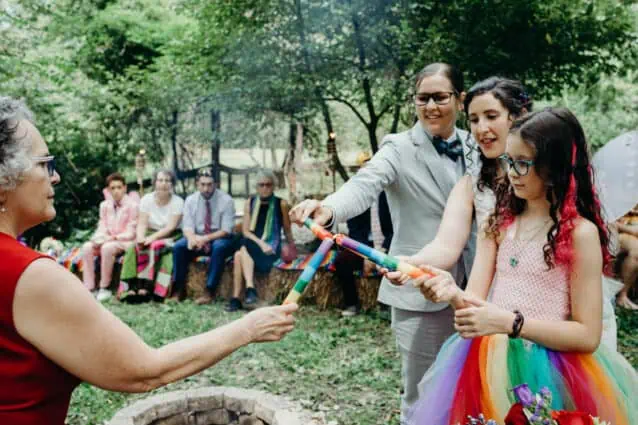 "At the end of the ceremony I then broke a glass using my Oma and Opa's (grandma and grandpa in dutch) worn and loved wedding glasses. I always wanted to break a glass at my wedding because it seemed really fun but also important to acknowledge my Jewish heritage. I feel really connected to the Jewish culture and my family's history."
Post-Ceremony Vegan Comfort Cones
Following the first ceremony, vegan comfort food was supplied for the afternoon festivities by Cleveland-based Squash the Beef Catering.
The all-vegan comfort cones, a heavenly concoction of mac and cheese, grits, and fried chick'n in a waffle cone glazed with syrup and hot sauce, were the main attraction.
Capturing Precious Memories Through a Queer Lens
Bellies full and hearts overflowing with joy, the brides and their best people boarded a party bus and took photos at scenic spots throughout Cleveland with renowned LGBTQ+ artist and wedding photographer, Tara Beth Photography.
"It was extra important for us to get a queer photographer so that our wedding was captured from a queer lens and so we didn't have to be put into heteronormative poses," Lizzy said.
"We wanted to know that we were fully accepted, loved, and understood by our photographer, which we were, and so much more. Tara made us feel like the most beautiful and important people in the world when she photographed us. She made us feel comfortable and really captured the essence of the whole day."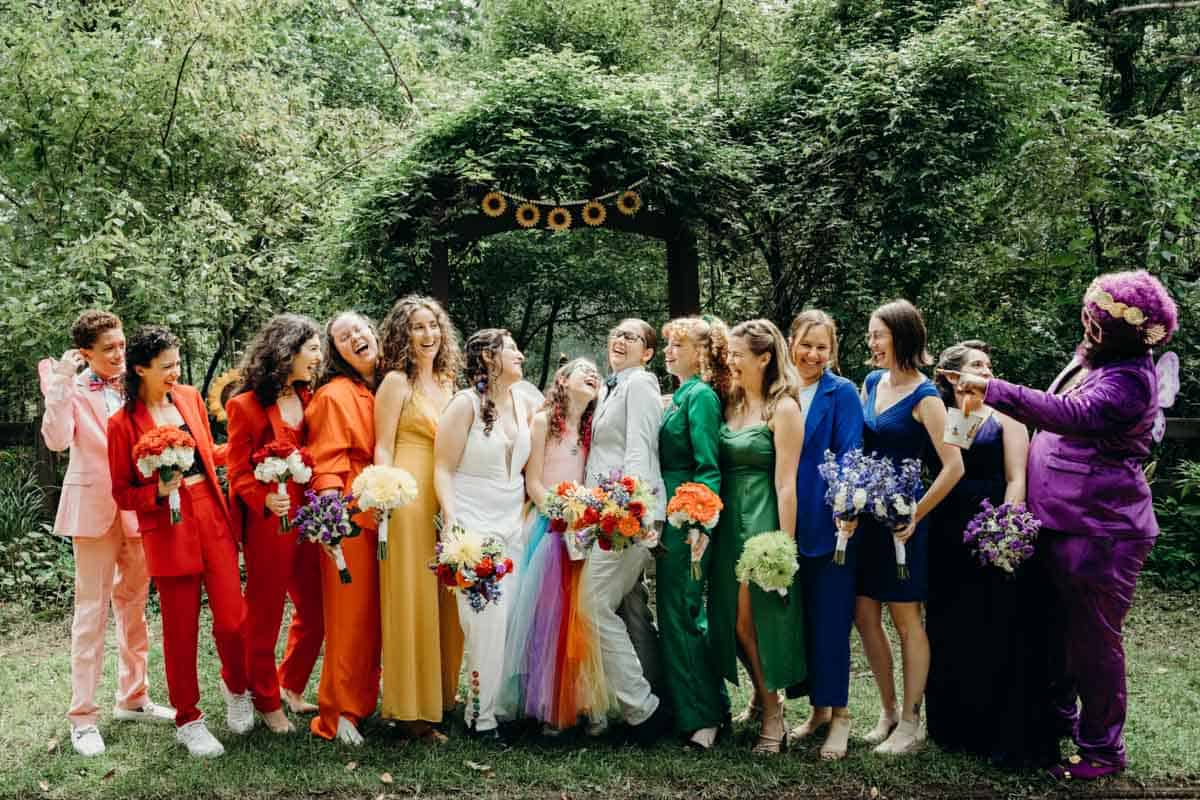 "We really turned heads, which was fun. A few people walked up to us and told us how beautiful our wedding party was and how happy it made them to see."
Colorful Wedding Reception
The party then made their way to Graffiti HeArt for the reception. The brides wanted all in attendance to feel like they were part of the wedding, rather than just the party.
After the two shared shortened versions of their vows and kissed once more, the crowd cheered "Mazel Tov" as another glass was broken in honor of Lizzy's Jewish heritage.
"It is just such a fun thing to do," Lizzy said. "It made it feel really special and ceremonial. I can easily get turned off by ceremonies when it feels like it's ritual for the sake of ritual. So it felt important to choose meaningful and purposeful things to include."
Plant-Based Wedding Reception Food
Food from Cleveland-based vegan-friendly wedding catering business Spice Catering Co. included standout hors d'oeuvres and a festive plant-based buffet. From the crispy cacio e pepe and mushroom chorizo tacos to the crunchy crudo salad with tofu feta, it was a truly beautiful, filling, and nourishing animal-friendly feast.
Passed Hors D'oeuvres:
Crispy "Cacio e Pepe"
Beet Falafel
Stuffed Mini Peppers
Buffet Dishes:
Crunchy Crudo salad with tofu feta, crispy chickpeas and herby tahini dressing
Mushroom Chorizo tacos with kale slaw, salsa, cilantro + onion
Firecracker Noodles Party Jar (rice noodles with veggies and sesame seeds)
Vegetable Curry Party Jar (half sized mason jars)
Brown Sugar and Rosemary Little Potatoes
Cleveland Vegan provided some of the wedding desserts. The elegantly presented dessert bar included favorites like:
Classic Midwestern buckeyes (chocolate-dipped peanut butter balls that resemble the Ohio state tree)
Peanut butter chocolate chip cookies
Plant-based pecan bars
"We got so many compliments on the food, which was great because I was obviously going to have a fully vegan wedding as a proud vegan of 7-plus years," Lizzy said. "I really wanted to impress people with the quality and taste of the food, and Spice did just that. I was so happy to hear how much people enjoyed it."
Sustainable Wedding Secrets
Lizzy and Tiffany took steps throughout their wedding plans to make sustainable choices and tred lightly on our planet. Just one example is the rainbow compost pile they integrated into their Secret Garden. To make the wooden compost crate its own fixture of wedding decor, they spray painted it with all the colors of the rainbow.
Hers & Hers First Dance
Again with full, happy vegan bellies, the two brides shared their first dance, showing off their moves from dance lessons from a queer dance instructor to a playlist of songs meaningful to their lives.
A Kaleidoscope of Love
Lizzy and Tiffany's wedding planning and festivities were imbued with love in every sense of the concept.
For the proud (in more ways than one) vegan with a heart as colorful and vibrant as the flowers adorning the wedding ceremony, the process is a testament to what can be accomplished with an ever-present abundance of love.
"It was a really beautiful, joyful, and profound experience," Lizzy said with a smile.
Featured Vendors, Caterers, and Artisans
Photos of this beautiful rainbow wedding were taken by Tara Beth Photography. Do you have a creative and thoughtful vegan wedding to share? Drop us a note to be considered!