When I went vegan, my family didn't join me, but as the primary meal planner, grocery shopper, and cook in the family, we all eat vegan at home. At first, it was tricky to find family-friendly vegan recipes that my kids and husband would love. My kids are not big fans of faux meats and plant-based cheeses, so the majority of my meals are made from whole food ingredients that are big on flavor. There are some vegan meats I do experiment with though like Beyond Meat, which has been a savior for veganizing some of my family's Italian recipes.
I cook from scratch 5-7 dinners a week, so I have learned a lot about what my family will and won't eat. Having a list of favorites to refer to simplifies my meal planning and takes the thinking out of what to cook at least once a week. I highly recommend creating one of your own and rotating the meals into your monthly meal plans. Below are 5 dinners that my non-vegan family loves.
Vegan Tacos with Easy Pico de Gallo
2018-02-21 17:09:28
Who else celebrates Taco Tuesday? These tacos made with vegan beef and black beans are a staple on our dining room table every Tuesday night.
For the taco seasoning
1 tablespoon chili powder
2 teaspoons cumin
½ teaspoon paprika
¼ teaspoon crushed red pepper
1 teaspoon salt
¼ teaspoon garlic powder
¼ teaspoon oregano
¼ teaspoon onion powder
For the filling
1 package Beyond Beef Beefy Crumbles
1 can black beans (undrained)
1 onion, chopped
1 tablespoon oil
For the pico de gallo
2 Roma tomatoes finely chopped
½ yellow onion finely chopped
¼ cup cilantro finely chopped
½ the juice of 1 lime (or more if desired)
Salt to taste
Instructions
Combine all the ingredients for the taco seasoning in a bowl and stir well. Set aside.
Heat 1 tablespoon of olive oil in a medium saucepan. Add in the onion and cook for 3 minutes until translucent.
Add in the Beyond Beef Beefy Crumbles. Stir in the beans with the liquid. Sprinkle the taco seasoning into the pan and stir well to combine.
Reduce to simmer and allow to cook 10-15 minutes until the filling becomes thick.
Prepare the pico de gallo. Combine all of the ingredients in a bowl and set aside.
To assemble, scoop filling into corn tortillas, shells, or romaine leaves. Add your favorite taco toppings, (such as olives, avocado, guacamole), and spoonfuls of pico de gallo.
World of Vegan https://www.worldofvegan.com/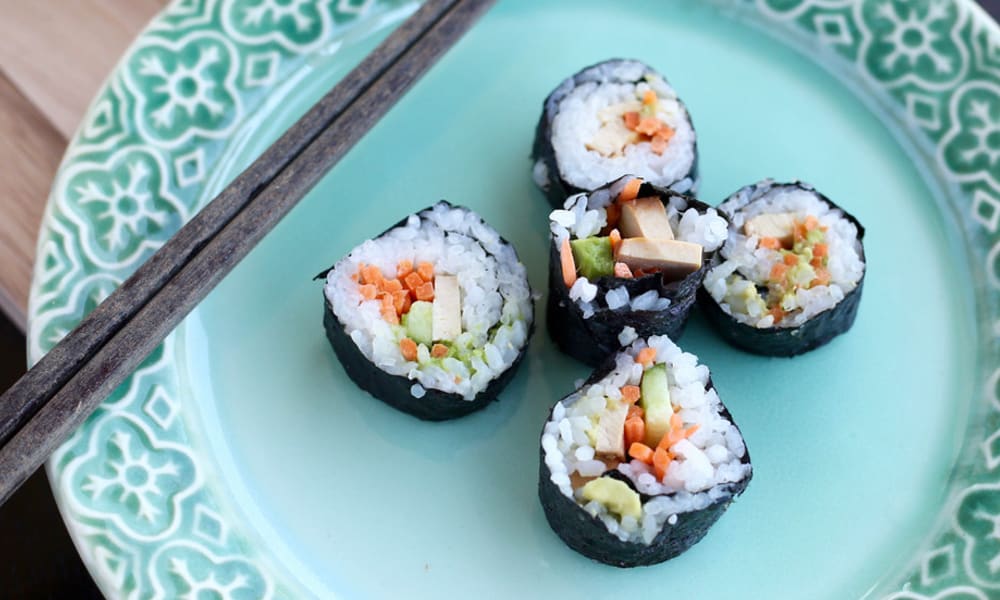 This super easy meal is DIY and the kids love it. I cook a batch of sushi rice and either set out a sushi mat with nori or fill bowls with individual servings of rice. On a separate cutting board, I place piles of shredded carrots, cubed cucumber, sliced avocado, chopped baked teriyaki tofu, sliced scallions, toasted sesame seeds, and shelled edamame. I let the kids assemble their own bowl or roll, and then top with tamari. Easy and fun!
Vegan 3-Cheese Rigatoni
2018-02-21 17:16:19
This is one of those veganized family recipes. It takes some help from the store with pre-packaged cheeses. I have noted my favorite brands below.
Ingredients
1 pound package of rigatoni
1 package Kite Hill Ricotta
3/4 cup Go Veggie! Grated Parmesan cheese (plus more for serving)
1 package Follow Your Heart Shredded Parmesan cheese
2 28-ounce cans of your favorite marinara sauce
Instructions
Preheat oven to 350 degrees.
Pour 1/4 cup of marinara sauce in a casserole dish and spread it out to coat the bottom of the dish.
Cook rigatoni according to package directions. Drain and toss with 1 1/2 cups of the sauce (until coated nicely).
Begin layering the rigatoni into the dish as follows: 1/3 of the pasta followed by 1/3 of each of the ricotta and shredded cheese, and 1/4 cup of the grated cheese.
Pour about 1/3 of a cup of sauce on top of the cheeses and spread it to cover the cheeses. Continue to layer the ingredients in the same order 2 more times, reserving a bit of shredded cheese for the top.
Top with additional sauce and sprinkle any remaining shredded Parmesan cheese on top.
Bake for 30 minutes. Allow to sit for about 10 minutes before serving.
Serve with additional marinara sauce and grated Parmesan cheese.
World of Vegan https://www.worldofvegan.com/
Sun Dried Tomato Vegan Alfredo Sauce
2018-02-21 17:25:44
My family loves this sauce poured over penne, farfalle and jumbo shells.
Ingredients
2 cups cashews (soaked for 2 hours or overnight and drained)
2 cups vegetable broth
3 garlic cloves
1 tablespoon apple cider vinegar
1 teaspoon salt
¼ cup nutritional yeast
¼ cup sun-dried tomatoes in oil (drained)
¼ cup lemon juice (about 1 lemon)
Instructions
Combine all ingredients in a high-speed blender and mix until smooth.
World of Vegan https://www.worldofvegan.com/
Vegan Meatballs
2018-02-21 17:29:59
Serve these vegan meatballs over spaghetti and/or zucchini noodles with your family's favorite marinara sauce.
Ingredients
2 packages Beyond Meat's Beyond Burger
1/2 cup breadcrumbs
1/4 cup chopped Italian parsley
4 cloves minced garlic
2 teaspoon salt
1 teaspoon pepper
1 tablespoon olive oil
Instructions
Combine all ingredients in a bowl and mix well.
Form the mixture into 12 small meatballs.
Heat the olive oil in a pan. Add the meatballs and rotate on all sides so they are evenly cooked and browned on all sides.
World of Vegan https://www.worldofvegan.com/
Hungry for more from Stephanie Dreyer? You can read her other World of Vegan articles here, and you can get loads of family-friendly vegan recipes and mom tips when you subscribe to her newsletter here. Cover photo and sushi photo by Lana Lee Photography.