Hope you had a phenomenal Thanksgiving! I spent the day with my family and we all enjoyed a delicious plant-based feast. Last year my very non-vegan uncle made the most epic squash dish which totally out-shined the Field Roast, my usual Thanksgiving fave. So this year my mom re-created it!
Now, the morning after, Black Friday is here and the money-saving frenzy has begun. I'm writing this from bed, in my pajamas, wrapped up in blankets on this chilly day for those of you who are looking for the best vegan Black Friday deals on Amazon and beyond.
Below you'll see the best one-day-only savings I can find. I'll be updating this with new finds throughout the day (as well as on Cyber Monday). Let's jump in!
Instant Pot Pressure Cooker
Once again, Amazon is offering the Instant Pot for the lowest price of the year. I got mine on Black Friday back in 2015 and it has become one of my favorite cooking appliances ever. You can pick one up for more than 50% off! I wrote an entire article about why everyone needs a pressure cooker.
Instant Pot Lid
For those who already have an Instant Pot, here's something I just added to my Amazon cart! I can't tell you how many times I've haphazardly saran-wrapped my Instant Pot full of soup and stuck it in the fridge. This Instant Pot lid is going to make things much cleaner and simpler.
Air Fryer
I got an air fryer last year and love it! Air fryers are all the rage these days and for good reason. They enable you to fry up potatoes and beyond without using oil. If french fries are your jam but you also want to eat healthfully, check this out. This air fryer is $58!
Glass Storage Containers
I recently got these glass storage containers because I'm trying to move away from plastic and I love them! They came in handy in a big way for Thanksgiving last night—all our leftovers are neatly packed away and stacked in these in the fridge.
The Best Non-Stick Pan
Last year I was introduced to these T-fal pans by my birthfather and love them so much I went out and bought another. They are non-stick so you can easily stir-fry tofu, veggies, and anything else, without sticking to the pan. Plus, no matter what you're making, it's easy to clean with a simple rinse and wipe. They're on super-sale right now!
If you're trying to cut down on plastic waste and shop in a more eco-conscious way, these bags will come in handy! You can use them at the grocery store for produce or bulk items like nuts and grains.
High-Powered Blender
A high-powered Vitamix blender is one the most coveted items in many vegan kitchens. The only thing holding most back from owning a Vitamix—which can make the creamiest smoothies, nut milks, sauces, soups, and beyond in moments—is the price. These blenders can cost upwards of $500, but with this Amazon deal you can get it for much less. I actually just upgraded from a Blendtec to a Vitamix this year during a similar Amazon sale and this is the exact model I own and use daily. If I needed a blender upgrade, I would jump on this stat!
For those who are wondering, I prefer the Vitamix over the Blendtec because the Vitamix has a tamper that makes it easy to smash frozen fruit down into the blades so it's easy to blend even thick things like banana nice cream. 
Stand Mixer
Here's one I'm eyeing today. I don't own one of these yet—instead, I mix everything by hand (or call the hubby over to help) but this can make baking much more convenient. I had one growing up! I'm including it mostly because the sale is so epic (nearly 50% off with the lightening deal), so if it's something you've been thinking about getting, now is the time!
Milk Frother (For The Perfect Vegan Lattes)
I got one of these Capresso milk frothers many years back and love it to this day! It can froth the soymilk and heat it at the same time to bring a delightful cafe feel to your morning routine. Note that not all nut milks froth well. My favorite froth-able milks is the WestSoy unsweetened soy milk (the ingredients are simple—just soybeans and water).
DNA Kit
This isn't vegan-specific, but something I've very passionate about so I figure I'll share since it's such an epic deal. 23andme DNA kits enable you to peek into your ancestry through your DNA and also connect to hundreds or even thousands of blood relatives. You never know…you may just discover someone in your family who you never knew existed! I was adopted as a baby and was able to connect with my first cousin and ultimately my birth father through these DNA tests, and every new person who takes these gives extra hope to adopted kiddos who are searching for blood family.
Vegan Cuts 7 Days of Deals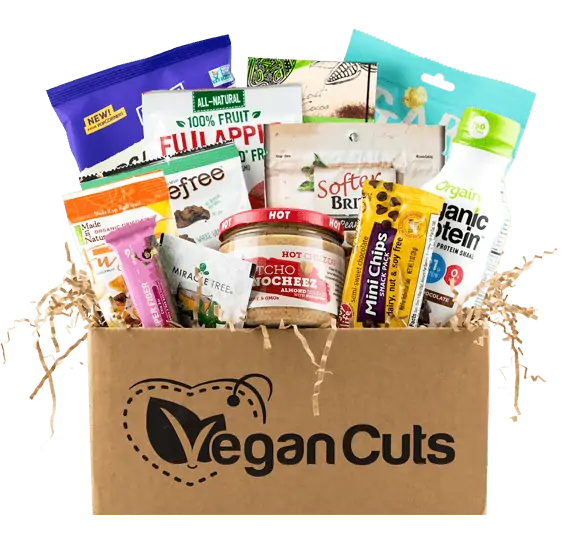 Vegan Cuts is also offering some epic sales this weekend. They offer vegan subscription boxes (snack and beauty boxes) and an online vegan marketplace. Check them out!
Want More Vegan Deals?
Stay tuned… we'll have more coming throughout the day!
Cover photo from Canva.com. This article contains affiliate links, and shopping through these links supports World of Vegan. We only share products and companies we sincerely adore!