This is exactly what breakfast at The Cinnamon Snail is about. Why would you serve yourself boring plain pancakes? Don't you love life? Why aren't you making your kitchen smell like hazelnuts, freshly roasted with bourbon and spices? WHY? Slow your roll—I am sure you are a nice person. So you deserve yummy breakfasts, and the people around you deserve them as well. What about your dad—he thinks your vegan diet is weird, right? Why don't you feed him the best damn pancakes he ever ate in his life? Make everyone you know who doesn't get your veganism some SERIOUSLY BOMB, absurdly good vegan pancakes.
They will connect the dots later, somewhere at the bottom of their first stack, as to why you went vegan in the first place. . . . But whatever ingredients you're adding, this is a lovely all-around versatile vegan pancake recipe that you can trust for yielding stacks of tasty fluffies. If you feel creative, use this as a base recipe to add all kinds of absolutely fun things, too.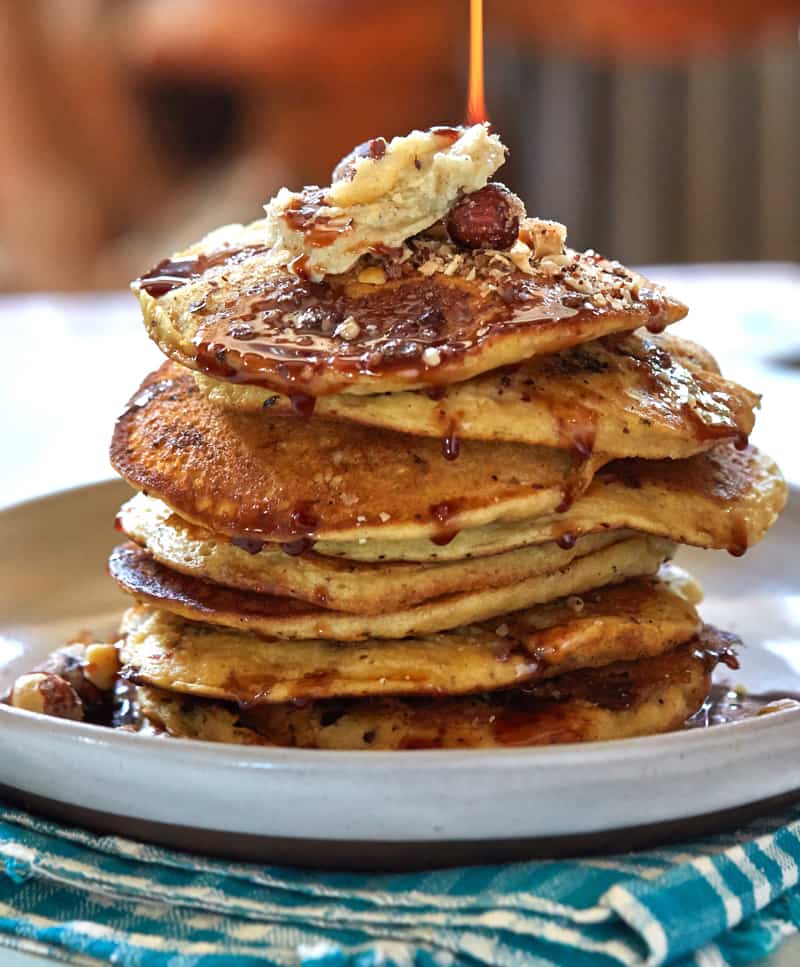 Quick Tip: You'll want to make the cardamom butter in advance, so it can set up nicely in the refrigerator. Plan to make it the day before (or at least a few hours before) you make the pancakes, so you'll have a nice, pretty butter pat to top your steaming hot pancakes, along with a generous drizzling of Ginger Stout Syrup (page 253 in Street Vegan).
Bourbon Hazelnut Pancakes with Cardamom Brown Butter
2016-06-20 16:21:10
Delicious vegan pancake recipe from Adam Sobel's Street Vegan cookbook.
For the cardamom brown butter
¼ cup unsweetened soy milk
½ teaspoon rice vinegar
4 teaspoons pure maple syrup
¼ teaspoon sea salt
¼ teaspoon ground cardamom
¼ teaspoon ground cloves
½ cup refined coconut oil (melted to 75° to 100°F, if not already in liquid form)
2 tablespoons extra-virgin olive oil
¼ teaspoon xanthan gum
For the bourbon candied hazelnuts
2 cups hazelnuts
½ cup evaporated cane juice
¼ cup bourbon
½ teaspoon sea salt
1 teaspoon ground cinnamon
2 tablespoons canola oil
For the pancakes
1½ cups all-purpose flour
2 teaspoons baking powder
2 teaspoons baking soda
½ teaspoon sea salt
¼ cup pure maple syrup
1²⁄³ cups unsweetened soy milk
3 tablespoons canola oil, plus more for frying the pancakes
1 teaspoon pure vanilla extract
Optional for garnish
Ground cinnamon and/or vegan powdered sugar
Instructions
Make the cardamom butter: Place the soy milk, rice vinegar, maple syrup, salt, cardamom, and cloves in a high-speed blender and mix on high speed for 10 seconds. Let sit for a minute or so—the mixture will have a curdled, thick consistency like buttermilk. Add the melted coconut oil, olive oil, and xanthan gum. Blend on high speed for 60 seconds to thoroughly emulsify. Pour into an airtight container, and chill in the freezer for an hour. Transfer the tub to the refrigerator, and use as needed. (You will have about 1 cup butter.)
Make the candied hazelnuts: Preheat the oven to 350°F. Line a rimmed baking sheet with parchment paper. Pulse the hazelnuts a few times in a food processor to break them into smaller pieces. Mix the ground nuts and all the remaining ingredients together in a medium bowl and distribute evenly on the prepared baking sheet. Bake for 12 minutes, flipping the nuts halfway through to ensure even baking. Allow the nuts to cool, and break up any large clusters; store in an airtight container at room temperature. (The nuts will keep for up to a month.)
Make the pancakes: In a mixing bowl, whisk together the flour, baking powder, baking soda, and salt. Make a well in the center, and add the maple syrup, soy milk, oil, and vanilla extract. Whisk together to form a smooth batter.
Heat a skillet or griddle over medium heat. Lightly oil the pan and ladle the pancake batter evenly onto the hot surface, forming pancakes in any size you like. Sprinkle 1 to 2 tablespoons of the bourbon hazelnuts onto each circle of batter and let cook for about 2 minutes. Carefully flip the pancakes when bubbles appear in the center and the edges start to brown lightly and lift away from the pan. Flip and allow to cook on the second side for an additional 2 minutes.
Place 3 or 4 pancakes on each plate. Top with a pat of the cardamom butter, a sprinkle of bourbon hazelnuts, and a dash of cinnamon and/or powdered sugar for garnish, if desired.
World of Vegan https://www.worldofvegan.com/
Reprinted from Street Vegan: Recipes and Dispatches from the Cinnamon Snail Food Truck. Copyright © 2015 by Adam Sobel. Photos by Kate Lewis. Property of Clarkson Potter, an imprint of Penguin Random House.