Seafood lovers have something to celebrate this year. The launch of this much-anticipated vegan tuna from the 100% plant-based company Good Catch Foods is finally here!
We've talked a lot about the issues surrounding fish consumption. Needless to say, there are many reasons why consumers are choosing to avoid fish. And we're not just talkin' pregnant women here. Omnivores, vegetarians, vegans, and even pescatarians are starting to look for cleaner alternatives to fish. 
What's Wrong With Eating Fish?
We dive into this in depth in this article, but to sum it up in brief…
Fish can be very unhealthy (packed with cholesterol) and even toxic (plagued by mercury and microplastics and PCBs)
Overfishing is devastating the delicate balance of our ocean's ecosystem
Sea turtles, dolphins, and other marine life are innocent victims, so-called "bycatch" that are commonly discarded by the fishing industry
Fishing causes immeasurable pain and suffering to fish, which are highly sensitive animals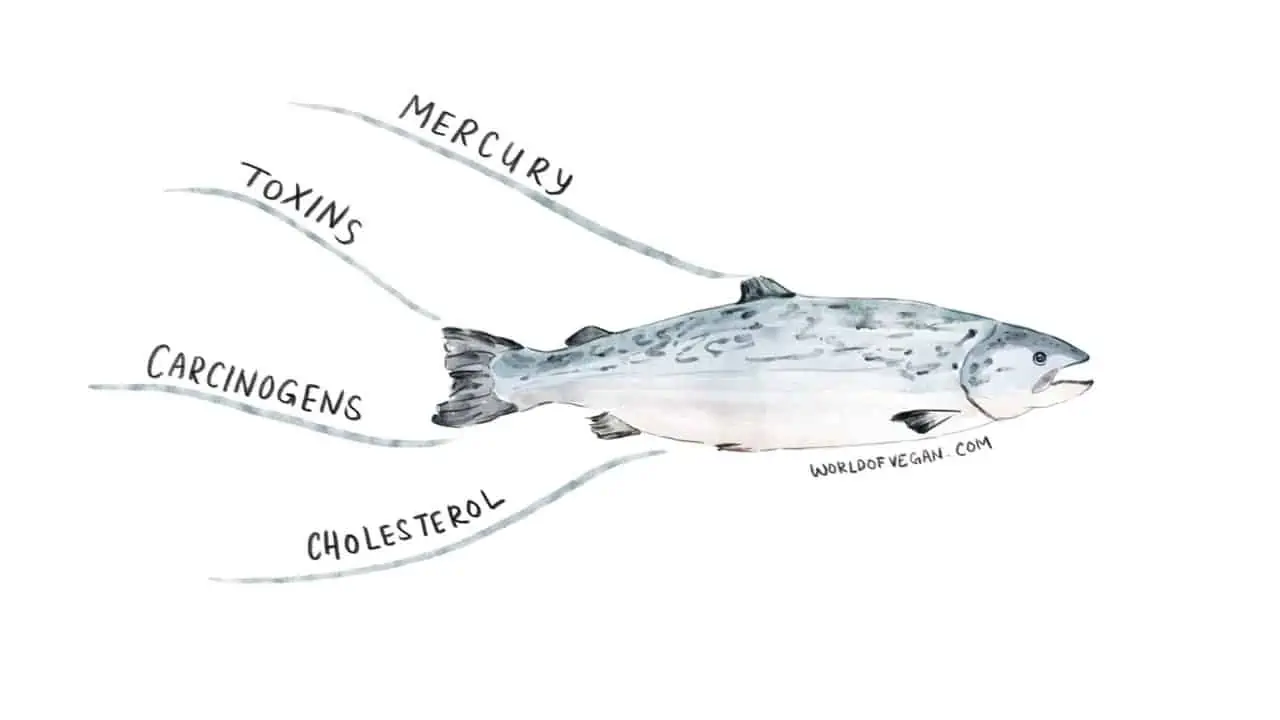 Whether you're looking for a better alternative to fish in order to protect our oceans, to protect fish, to spare marine life, or to spare yourself from dangerous toxins, you'll be glad to know that healthier, happier options are on the horizon.
Good News—You Don't Have To Say Goodbye to the Flavors You Love!
That's right, you won't have to survive without your beloved tuna salad sandwich.
First of all, we have three insanely good vegan tuna salad recipes here at World of Vegan. These are simple recipes you can make from scratch using basic ingredients like chickpeas and jackfruit.
I highly recommend this chickpea tuna which is great for lunch sandwiches and picnics, and stores beautifully in the fridge. Watch how it's made in the recipe video below!
Chickpea Tuna Doesn't Do It For You? I Get It…
Lucky for you, we don't have to limit ourselves to substituting beans or fruit for flesh to get our fish fix. Healthy plant-based protein options are booming, and seafood without the sacrifice has become a reality.
Enter: Good Catch.
Good Catch has created innovative and delicious plant-based seafood options that will make you think they're fresh from the sea (without the mercury, plastic, PCBs, and dioxin, of course!).
Meet The Founders
Good Catch was founded by Chris Kerr, Eric Schnell, and Marci Zaroff in collaboration with revered plant-based chefs (and brothers) Chad Sarno and Derek Sarno.
All four of these individuals are incredible human beings and I encourage you to Google them to see all the awesomeness they've been up to. But I have to shine a quick spotlight on brother-duo Chad and Derek Sarno. They've collectively:
…and beyond. They've been involved in so many ground-breaking projects in their time on planet earth thus far that it makes my head spin. I often wonder, "How the heck do they do it all?" But that's another conversation (or World of Vegan interview, perhaps?) for another day.
Amongst their other endeavors, this superstar team has now been working for several years to make delicious and healthy vegan seafood a reality and bring it to the mainstream world. And we're thrilled to celebrate the current release of Good Catch in Whole Foods Market nationwide, and on the online marketplace Thrive Market.
Bring On The Vegan Tuna!
You'll find Good Catch vegan tuna at these retailers exclusively at first (Whole Foods and Thrive Market), but they'll be even more widely available very soon.
This chef-crafted tuna made from plants captures the benefits we expect from fish, without sacrificing flavor. It's packed with 14 grams of protein plus high levels of omega-3 fatty acids.
You can currently choose from savory fish-free tuna blends to recreate your favorite tuna fish meals. So…what are you waiting for? Go give it a try!
View this post on Instagram
On behalf of our oceans, all the fish in the sea, and the countless individuals whose health will be bettered, we at World of Vegan extend an enormous thank you to Good Catch!
If you're searching for a yummy vegan fish dish, make sure to check out this delicious recipe for vegan fish tacos!